Why There's Nothing New with Kevin Smith's "Red State" Self-Distribution Plan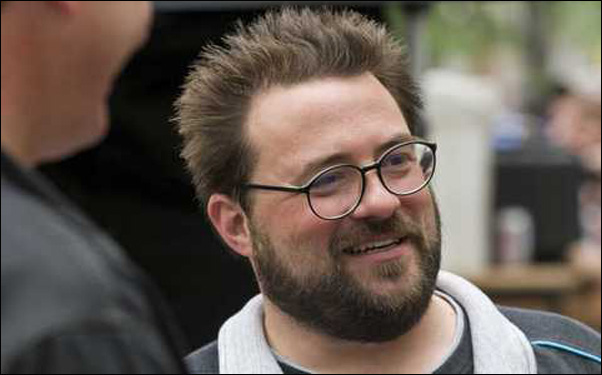 Posted by Stephen Saito on
Early reaction out of Kevin Smith's "Red State" premiere at Sundance has suggested the film isn't the horror movie that its director had touted it as, but that would hardly be the only thing that was misleading about the film's premiere on Sunday night. Instead of auctioning off the film's rights in public as he suggested he would do, Smith announced that he would self-distribute the film, which may not have pleased the assembled buyers in the crowd, but falls squarely in line with the approach he's taken with "Red State" all along.
After finding interesting ways of eating away at the cost of the $4 million film like offering a "Red State Club" for $100 in Los Angeles to join his podcasts, Smith is taking the unusual, but not unprecedented step of releasing his latest film by going on a 15-city tour beginning in March in advance of a traditional theatrical release on October 19th, eschewing paid advertising for what he can accomplish on all of his own social media accounts. (It's all in the manifesto he and producer/former Miramax exec Jon Gordon lay out on — what else? — the film's Web site.) In the 25-minute spiel that followed the end credits of "Red State," Smith described a distribution system for indie films that he saw as broken and went so far as to say that he'll retire after his next film to concentrate on helping other filmmakers follow in his path.
What was surprising in all the reactions on the social media sites that Smith will employ to hype the "Red State" run is just how many people appear to believe self-distribution is a new idea, which does a disservice to those brave or well-funded enough in the past to try the same thing or the smaller distributors for which the release of every film is a new battle. There's no doubt that Smith continues to inspire people as he did when he made "Clerks" on a shoestring budget in a New Jersey convenience store 17 years ago, but Smith is hardly a pioneer and sounds a bit disingenuous when he talks of "producing a film distribution apparatus that can stand apart from the cost-prohibitive studio model" after building his brand off the backs of a clever Miramax marketing department in their prime. (As Devin Faraci at Badass Digest writes, it's not a stretch to think Harvey Weinstein will lend a helping hand even now.)
Of course, Smith wisely parlayed his notoriety as a filmmaker into something even more substantial as a personality and as my colleague Matt Singer rightly pointed out on Twitter, the asking price of "6, 7, maybe 10 times [a normal ticket price]" that Smith plans on charging for the roadshow version of "Red State," in which he'll probably put in a personal appearance not unlike those on the "Evening of Kevin Smith" DVDs, is about what it would cost ordinarily for one of his performances plus a $10 movie ticket.
While Smith has the unique advantage of having the fan base to command that price, it's not all that far away from the $70 Arclight Cinemas and likeminded exhibitors charged for "Sex and the City 2"-themed nights around the country last summer, the $25 that our corporate sibling IFC Films was charging to see longform films like "Che" or "Carlos" in their entirety, or the total dollars taken in by self-distributed indies such as "Anvil! The Story of Anvil!", which piggybacked its theatrical rollout on the back of the heavy metal act's concert tour (and vice versa). Smith should be applauded for using his appeal to find a better way towards profitability than relying on the traditional spend on marketing, but while the scale of "Red State"'s distribution may be larger, it can't be called a revolution, or for that matter, something other filmmakers without Smith's pull could easily attempt and have immediate success at.
Smith also made a point of saying he would reach out to potential exhibitors by offering more favorable terms than the traditional studio release would, and according to Anthony Breznican's account at Entertainment Weekly, used the example of his own film "Cop Out" to say, ""We want to partner up, man. We won't screw you over. We won't be like, 'You gotta fucking take this piece of shit. If you want 'The Dark Knight,' you better take this piece of shit 'Cop Out.'"
But that's a double-edged sword. Smith shouldn't have any trouble booking theaters, but what he might prove troublesome is collecting from them. Whether the quality of "Red State" is more like "The Dark Knight" or "Cop Out," Smith doesn't have a continual pipeline of films to keep the exhibitors honest. Looking at one of the best-case scenarios of self-distribution, Mel Gibson's "The Passion of the Christ" made $370 million in the U.S. and employed the savvy Bob Berney, then at Newmarket, to help bring the film to the public. Ultimately, Gibson's Icon Distribution had to sue Regal Entertainment to the tune of $40 million after the film was released because they felt the theater chain was holding back on the profits. It's not likely "Red State" will become a phenomenon like "Passion," but it certainly wouldn't be surprising if it fell victim to the same business practices since there's no incentive, other than Smith's next (and allegedly final) film "Hit Somebody," to pay up.
Smith is absolutely right when he suggests anyone can release a film, but that was just as true a decade, if not decades ago as pointed out by Cole Abaius on Film School Rejects, though they rarely have the publicity that Smith can muster. In 2001, I can remember when an indie called "The Debut" played at the local AMC theater and director Gene Cajayon was onhand to greet anyone who bought a ticket for any of the film's shows during its weeklong run. I imagine he did that at nearly every weeklong run the film had at theaters around the country until it made a tidy $1.8 million under the radar and got a DVD distribution deal with Sony the hard way.
It should be celebrated any time a filmmaker decides to carve out their own path and often it takes a filmmaker with the fame of Smith to lead the way, but in the case of "Red State," it's unfortunate that he appears to be claiming the idea as his own.