Watch Michel Gondry's "Jimmy Kimmel Live!"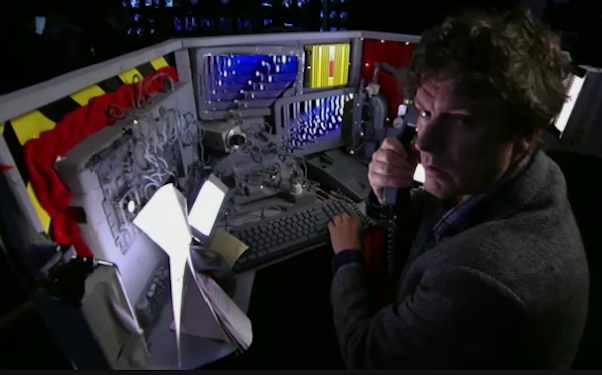 Posted by Matt Singer on
Ostensibly, director Michel Gondry's guest directing stint (and guest sidekicking stint) on "Jimmy Kimmel Live!" last night was simply promotion for Gondry's new movie "The Green Hornet," which opens today in theaters around the country (you can read our review here and our interview with Gondry here.) But as a fan of all of Gondry's movies, I have to tell you: I enjoyed this blatant piece of marketing far more than the actual movie it serves to promote. I'd say Gondry fans could wait to catch "Green Hornet" on Blu-ray. But they need to watch this episode of "Kimmel" immediately.
We've seen Gondry spoof talk shows before in "The Science of Sleep," where Gael Garcia Bernal conducts his dreamlife like Letterman conducting "The Late Show." But seeing Gondry wreak havoc on a real talk show was even more fun, and it's a credit to Kimmel — who definitely gets more kicks out of screwing around with the late night format than any of his more traditional competitors — that he permitted Gondry to try so many strange gags.
From the dreamlike cold open, which kept cycling back into the monologue like a bad recurring dream, to Kimmel's "loaf loafers" made out of bread, to Gondry's mad scientist roving director's desk, to guest (and "Hornet" star) Seth Rogen emerging for his interview through an enormous replica of his head (with TV monitors for eyes and bongos for teeth!), it was inspired and gloriously weird throughout. I've embedded Jimmy's monologue below — which also includes an appearance by Jay Chou (keep your eyes peeled in the background during that part; Gondry makes an extra appearance on a truck that drive by). You can watch the entire episode on ABC.com — make sure you stick around until the last commercial break for Gondry's "magnification box."
Overall, I'd call the experiment a wild success. Gondry's films all follow the structure and logic of dreams, so late night, and its audience of insomniacs and somnambulists, is actually the perfect venue for him. Bernal's character in "The Science of Sleep" has a hard time distinguishing from reality and dreams. I bet a lot of half-awake ABC viewers last night could relate to the confusion.