Tobey Maguire and Jacob Aaron Estes Fill in "The Details" in L.A.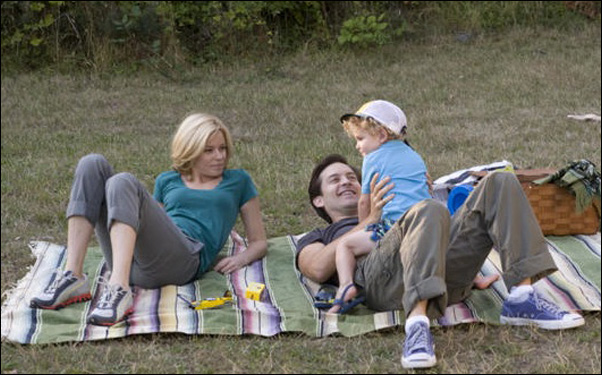 Posted by Stephen Saito on
A crisp, cool night in Los Angeles might've been the perfect evening to catch the Tobey Maguire/Elizabeth Banks dark comedy "The Details," but it may not have been the best idea to ask for writer/director Jacob Aaron Estes for any. Giving incredibly gracious answers to the assembled crowd, he still concluded the post-screening Q & A for the film in Los Angeles by answering the final question about a speech in the film, "I don't really have a great answer, but at the next Q & A, if you come to it, I will have thought about it."
As Estes told the audience, part of the beauty of writing "The Details" was not thinking about it too much, though he certainly can't be blamed for just not wanting to right now. Having endured many post-screening Q & As during a whirlwind week that saw the film sell to the Weinstein Company for a reported $7.5 million, Estes may have a case of festival fatigue as well as having a film that's best not to be spoiled in advance. And yet frustratingly for the few who have seen it early, "The Details" is one that's completely worth talking about.
A far cry from either Estes' earlier slow-burning thriller "Mean Creek" or the group of quirky suburbia-is-hell comedy genre that it will inevitably be lumped into, "The Details" features Maguire and Banks as Jeff and Nealy, an upper-middle-class couple in Seattle whose 10-year marriage has lost its spark amidst the upbringing of their young son and the renovation of their already idyllic home, which is why their constant bickering is of far less concern to Jeff than the raccoon infestation that is pockmarking the family's back lawn. Banks' Nealy actually disappears from most of the picture when Jeff goes about finding ways to exterminate the vermin while appeasing those around him for whom he has about as much respect, like a slightly off neighbor (a wonderfully mercurial Laura Linney) or the couple's closest married friends (Kerry Washington and Ray Liotta). Although he finds it in his heart to help out a basketball buddy (Dennis Haysbert) first with a job and then with a kidney transplant, Jeff's preoccupation with plotting out a perfect life without thinking about any of the fallout it wreaks on others or even himself causes considerable headaches when he starts putting poison on his lawn to rid it of raccoons and the results end up far more toxic.
Though there are cheeky allusions to other films about domestic frustration (Jeff's cell phone ringtone sound an awful lot like Thomas Newman's chimes for "American Beauty"), "The Details" separates itself by placing the onus on its main character's self-delusion rather than the typical suspect of suffocation by his environment, giving Maguire the room for one of his darkest and most mischievous performances since his all-too-short appearance in Steven Soderbergh's "The Good German." Amped up by a nearly carnivalesque score by tomandandy for the film's first half, Maguire's Jeff piles up one seemingly inconsequential lie after another to preserve a way of life, if not necessarily happiness, and Maguire is one of the few who could pull it off with a straight face. The same could be said for all of the cast Estes assembled, some of whom appear at first to take on roles that would frankly not be worth their time until a perfect, unexpected moment reveals why they were hired.
At the film's Sundance USA screening in Los Angeles, moderator Jay Duplass joked shortly after the end credits, "You surprised me about 45 times in this movie" before asking Estes, who was accompanied by Maguire and Haysbert at the Vista Theatre in Los Feliz, whether he was conscious of throwing audiences for a loop.
"I was trying to surprise and amuse myself," said Estes. "I frankly had a very general idea of what I wanted to do with the movie. I wanted to make a movie about adults, adult relationships, about what it means to be an adult and I only had one really childish notion and that was a man obsessed with eradicating his raccoons. And so I didn't know where that was going to lead. But I was just trying to draw on authentic details from life and somehow they found their way into this weird synthesis of plot, which was surprising to me all the time, which is why I enjoyed writing the script more than I've enjoyed writing most scripts."
Apparently, the film's shoot was less fun, as Estes explained that both the budget and the shooting schedule were slashed dramatically shortly before filming was scheduled to commence. But by then, it had become par for the course for Estes, who had seen a few projects come and go since he last attended Sundance with "Mean Creek" in 2004. Estes insinuated his planned adaptation of "The Gifted" about philanthropist Zell Kravinsky that had Ralph Fiennes attached to star fell victim to rights issues and in his words, "It took awhile just because I didn't write something that I really believed in that didn't get killed somewhere along the line."
It took producer Mickey Liddell and the commitment of his cast for "The Details" to avoid the same fate, but as Estes said, "When I saw the actors didn't abandon ship when the budget got cut in half and days got shorter, it was really encouraging."
Then again, that trust might've only extended so far. When Maguire was asked if he had trouble adjusting to the film's frequently shifting tone, he got a laugh when he answered, "I always have trust issues. It comes from my childhood and it's just what I do. I'm suspicious." But then he added, "I was curious about how broad the comedy was going to be when we were doing it and it really was a process of getting on the set and playing around. In a lot of cases, we would do takes that have a lot of range and so there is a lot of trust in giving that to the director to play around with. Later, in the editing room, we would sit there – some of the stuff I did I thought was absolutely ridiculous and Jacob wasn't going to put that stuff in, but I would say, 'You've got to stay away from that because some of that stuff was just corny ridiculous.'"
As for the film's ambiguous title, Estes preferred it be left up for interpretation, suggesting that assumptions that it comes from "the Devil is in the details" aren't necessarily accurate since as he says, "I don't think about the Devil in my life," something that might come as yet another surprise for those who believe the film has a religious subtext. But after thinking it through, Estes said, " It used to be called, "Yes, The Details" from a scene that was actually cut out – I just remembered why it's called "The Details." In the strange nine-month editing process I went through, we cut out a lot of stuff and among the things we cut out was a scene where Elizabeth Banks caught Tobey screwing around online [a late-night hobby in which he visits adult chatrooms] and Tobey had to explain to Elizabeth what he was doing and she said she wants to hear about it, she wants to hear it all. And Tobey said, 'you mean, the details?' And she said, 'Yes, the details.' And that was what became the title. Just remembered that."
Fortunately, Estes will have plenty of time to hone his on-set anecdotes before doing any more Q & As before "The Details" released likely later this year, but rest assured the film itself is already quite sharp.