"The Redemption of General Butt Naked," Reviewed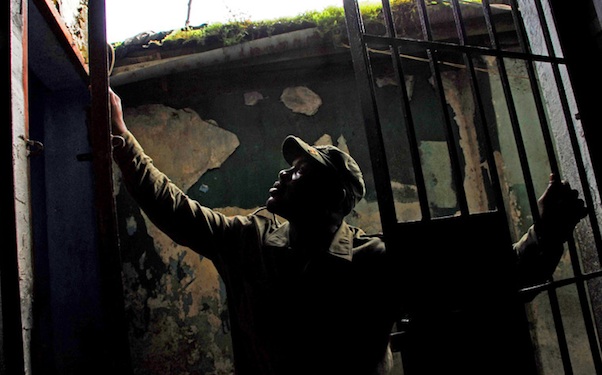 Posted by Matt Singer on
Reviewed at the Sundance Film Festival 2011.
You've heard the expression "to err is human, to forgive is divine?" By that measure, Joshua Milton Blahyi — a.k.a. General Butt Naked — is the most human protagonist you'll see in any movie this year. This man has made errors on an almost unimaginable scale. Back when he was known as "General Butt Naked," a vicious warlord in the Liberian Civil War so named for his penchant for charging into battle completely nude, he killed thousands upon thousands of men, women, and children. Some years later, Blahyi found religion and now he spends his day as a fiery preacher on a quest for divinity; a quest for forgiveness.
But does a monster deserve forgiveness? That is the question that drives Eric Strauss and Daniele Anastasion's documentary "The Redemption of General Butt Naked." I don't feel uncomfortable saying that General Butt Naked was a monster. We hear stories about his crimes and they are absolutely sickening. As if killing thousands of innocent people wasn't bad enough, Blahyi filled his private army with young boys he "recruited" (in other words, he stole them from their homes and families) because he believed teenagers made better soldiers. Why? Because teenagers were more easily brainwashed into loyalty and fearlessness than adults. Blahyi would show them Hollywood action movies and convince them that life was a movie too. Die in this one and you'll come back in another one just like Jean-Claude Van Damme does. He said this. They believed him.
Now it's years later. Most of those boys are long dead. The few that remain live in abject poverty. But Blahyi remains free to walk the streets of Liberia, preaching about the power of God. He preaches as he must have commanded his troops: with charisma, swagger, and a heavy dose of intimidation. He claims he wants to "balance the scales of the past," so he tries to build homes and support groops for the boys who used to kill for him. And he goes to visit the relatives of his victims and plead for forgiveness, camera crew in tow.
We watch these scenes with queasy fascination. "I'm sorry I killed your brother," he tells one woman, adding, "Whenever you need brotherly protection, call on me." The woman doesn't know what to say. Can you blame her? Imagine someone killed your relative, then came to you, years later, and apologetically offered to replace said relative in your life. What would you say? "Uh, thanks. I'm all set in the brotherly protection department. K, thanks, bye." A strong case could be made that none of the people Blahyi visit really forgive him. There's enough visible anxiety in their faces and audible uncertainty in their voices to suggest they're just saying what he wants to hear because they're still afraid of him and will do whatever he wants to keep him from murdering them too.
On some abstract level, Blahyi's change of heart is admirable. But his quest for forgiveness seems as much about assuaging his own monumental sense of guilt as soothing the bereaved souls of the people he's harmed. The only person who appears truly healed after these encounters is Blahyi himself; everyone else remains shellshocked by grief and tragedy. It's fascinating to watch forgiveness, which is such a selfless act, twisted into a selfish need.
I think "The Redemption of Butt Naked" works better as a conversation piece than as a film. As a film, it's a bit too repetitive and, even at just 84 minutes, a bit too long. Though Blahyi goes through a few upheavals over the course of the documentary — testifying before a war crimes tribunal, hiding from his enemies in Ghana — this is essentially a plotless series of encounters between Blahyi, his God, and the people he's wronged. Blahyi himself is no different a person at the end of the film than he is at its beginning. His life is probably better suited to a 60 minute character study than 90 minute feature.
But even at that prolonged runtime, "The Redemption of Butt Naked" is still an amazing character study. Blahyi is such complex man: compelling, pathetic, and infuriating. And mark my words: this film will start conversations. I saw this movie in a screening room with just one other person and after it was over, we couldn't help but debate the film and the issues it raises. Can a change of heart — even one as extreme as Blahyi's — ever erase the amount of evil he brought into the world? And who is forgiveness ultimately for? The forgiver or the forgiven?
My colleague and I batting around those questions until we were forced to part ways on diverging subway lines. Even if the film was human, the discussion was divine.