The Onion News Network: News Without Mercy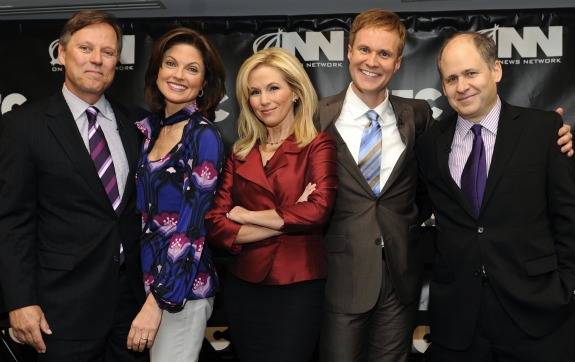 Posted by Melissa Locker on
The Onion News Network launched yesterday, not with one of their arsenal of attack satellites, but with a luncheon at the Paley Center for Media. Brooke Alvarez and Tucker Hope joined Today Now! co-hosts Jim Haggerty and Tracy Gill to talk shop with Jonathan Alter of Newsweek (don't worry, it's not competition).
The crack news team promised in-depth investigative reporting, such as their hard-hitting revelation that Facebook is actually a CIA tracking tool, which has saved the government millions in setting up sting operations, by allowing operatives to see what events you RSVP to so they can send in the agents. Tucker Hope also recommended that we tune in on Jan. 21 when he will mark the day the hand job was created as part of his series on great days in history. With more attack satellites than any other network and nearly a million surveillance cameras in cities, homes, and high-level government offices across the nation, the Onion News Network is the nation's number-one source for breaking news, screaming political arguments, and vital information on missing teenage Caucasian girls.
During the Q & A session following the presentation, lead news personality Brooke Alvarez was asked who she looked up to. Her reply: "No one, really." Then reporter asked Tucker Hope if the news team felt the need to cover stories with flashy catch phrases. Tucker Hope replied, "We're not doing anything different than what FOX is doing. We're just doing it on a more popular network."
Before the discussion started, Brooke Alvarez passed out signed photos of herself, naturally, for those in the audience. Following the panel she was swarmed by adoring stalkers and fans.
The Onion News Network will dominate the air beginning January 21st at 10 p.m. ET/PT