Ennio Morricone Composes A Fistfull Of Ringtones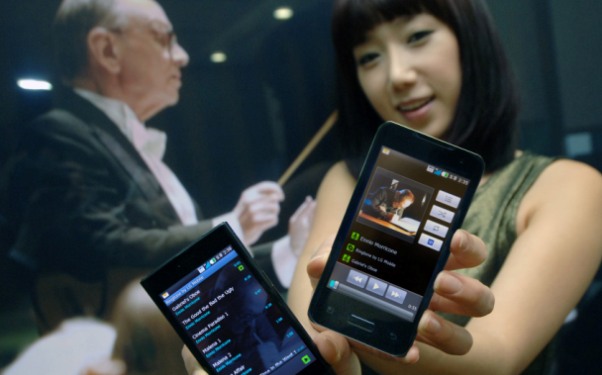 Posted by Brandon Kim on
Ringtones must be one of the great embarrassments of our time. We'll look back on them and wonder how so many people could be obsessed with them, like Beanie Babies or something. How people thought it was necessary to annoy each other with a jingle blaring out of a crappy miniature speaker, will certainly be a mystery to people of the future. In the meantime we're stuck with the damn things and all the ubiquitous pop-up ads that go with them. At least there may be the opportunity to bring a measure of quality to the phenomenon — with Ennio Morricone.
News that Morricone was creating ringtones for LG devices, first seemed like a sad fall from grace. One of the greatest composers of our time, writing smart phone alarms? The man scored "Cinema Paradiso," "The Battle of Algiers," "The Untouchables," "The Good The Bad and The Ugly" and almost countless other awesome westerns with the most incredible music. His scores not only brilliantly serve the films in which they are featured, but they stand on their own as great music to listen to independently. Hans Zimmer's score for "Inception" is great, but it doesn't have a shelf life outside the film. I wouldn't listen to it for pleasure, or play it while having dinner (at the risk of pasta dangling dramatically from the ceiling).
It's true that Zimmer's experiments with Edith Piaf make great ringtone fodder, but if Zimmer started writing ringtones I wouldn't be at all surprised — or feel like a great artist was being brought low. Personal ideas about integrity aside, Morricone actually raises the bar just as mobile devices with some real quality audio start to arrive. Can we have a quality experience instead of the grating noise most phones make? LG's new line of phones are powerful devices, with dual core processors and improved audio performance in attempt to position them as state of the art music players. And in that light, pairing them with exclusive Morricone compositions doesn't seem like a sad event at all. I think even the most cynical film buff could be wooed by the thought of answering the phone to Morricone.
/Flim scrutinized the promo image above pointing out that, aside from the new pieces Morricone is writing, several infamous clips from his film scoring work will be included. Ringtones from "The Good The Bad and the Ugly," "Cinema Paradiso" "Once Upon a Time in the West" and the gorgeous, "Gabriel's Oboe" from 1986's "The Mission." There is no release date for these new devices in the US yet, they release in South Korea and Europe this month.