"The Bachelor" is the Worst and Best Show On Television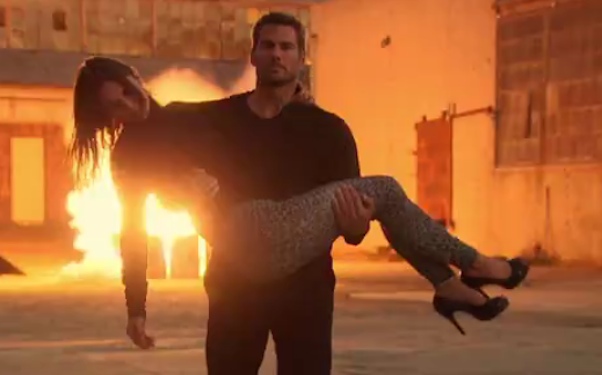 Posted by Matt Singer on
Love is about sacrifice. Marriage teaches me that every Monday night, when I have to sacrifice my desire to watch football so that my wife can indulge her love of crap television to watch "The Bachelor." As a result, I've seen a lot of "The Bachelor" myself over the last couple of years. God help me, I've even come to enjoy it.
That's because "The Bachelor" is more than just a television show. It is the television show, the show that exemplifies all that is terrible and wonderful about our celebrity-obsessed culture. It purports to be a reality show twist on the old "Dating Game," but it has absolutely no connection to reality whatsoever. It's really a "fantasy show," a television drama starring people loosely playing themselves in romantic fantasy about long walks in the mountains and candlelit dinners on the beach and one dude trying to sleep with ten women all at once.
That this story of socially acceptable polygamy is sold to viewers as a long-form story of fairy tale love is just one of the many of contradictions at "The Bachelor"'s core. Really, the show is all contradictions, the best and worst show on television all at once, and all the things that make it a crime against humanity are the same things that make it essential viewing. Here are just a few of those things:
It Is Basically Impossible to Fall in Love on "The Bachelor"
Fourteen previous seasons of "The Bachelor" have produced the same amount of "winning" married couples as "Rock of Love."
In other words, none.
True, Bachelor Jason Mesnick married one of the rejects from his season, but only after dumping the woman he had actually proposed to on national television during the most hilariously uncomfortable reunion show in reality history. So that's one successful relationship in nine years. If any dating service produced results that bad, they would be out of business.
That makes "The Bachelor" terrible because the entire show is predicated upon the notion that two people who meet on a TV show can fall madly in love, but the show itself has proven time and time again that that is almost impossible. "The Bachelor"'s marriage batting average makes Mario Mendoza look like Ted Williams. At this point, anyone who becomes a contestant on "The Bachelor" is either a)doing it to become famous or b)absolutely crazy.

But that also makes it amazing because these crazy women seem so genuinely smitten with this guy. They go on one date with him — at the same time as ten other women, mind you — and are lucky to kiss him once. But when he sends them packing, they walk away sobbing, their emotions shattered into a million pieces. Nobody likes to get dumped, especially not on camera, but they've talked to this dude for maybe a sum total of three and a half hours! General rule of thumb: if I've had bus trips longer than your relationship, you can't be that upset when it ends.
The Bachelor Himself Is A Dud
This season's "elligible' bachelor is Brad Womack. He is the first two-time bachelor in series history. Back on season 11, Womack decided not to propose to either of the finalists because he wasn't in love with either of them. Seems sensible to me, but on "The Bachelor," not picking one of the finalists is the worst thing you can ever do. On "The Bachelor," you're better off murdering a dolphin with your bare hands than dumping both of the finalists.
Don't believe me? In this season's premiere Womack claims he's villified wherever he goes for leaving his first go-around single. If you ask me, Womack's the most sensible bachelor "The Bachelor"'s ever had. He didn't fall in love so he didn't cheapen the already debased concept of marriage by going through with a sham proposal he would have bailed on six weeks after the season finale. But according to "Bachelor" viewers, Womack's refusal to participate in this charade made him one of the worst men who ever lived. Hitler. Stalin. Womack.
But just because I think Womack was smart doesn't mean he's a great catch. Here's what we know about his private life based on this season's premiere: he was abandoned by his father, has trust issues, suffers from panic attacks. He spends his free time watching himself on television, eating cereal alone, jogging alone, and staring out his window thoughtfully alone. He doesn't appear to have any friends, and he doesn't have much of a personality. He doesn't appear to have a job, either. He's a former bartender whose listed profession on "The Bachelor"'s Wikipedia page is "Returning Bachelor." All this guy has going for him is a good body and an extremely comfortable looking couch. Would you go on a dating show, risk humiliation and heartbreak, leave your family and friends, potentially lose your job, all for a shot at that package? It doesn't matter, because the show found thirty women who would.
That makes "The Bachelor" terrible because you stare at the television in disbelief and wonder what these women see in this guy. I mean if "The Bachelor" was set in some post-apocalyptic wasteland, and Brad Womack was the last fertile man alive in the Forbidden Zone, I could understand the attraction. But right now, this looks like an awful lot of fuss over a six pack and a leather sectional.


But that also makes it amazing because you get to watch these women lose their minds over Brad Womack. Seriously, the show's only been on for four weeks, and these women are getting so competitive for this schmendrick's attention that one girl, Michelle, has already expressed her desire to kidnap her fellow contestants. We're getting dangerously — and excitingly — close to a prison-style shanking at the weekly rose ceremony. Which brings us to my next complaint/highlight…
All the Women On This Show Are Absolutely Crazy
I love women. I think they are special and beautiful creatures. There are times watching "The Bachelor" when I wonder if the creators of this show disagree. They seem to have designed this program to showcase women at the very worst: at their most jealous, their cruelest, their most competitive, their most needy. It's not really their fault. The Bachelor" puts them into the world's most glamorous jail. There's no television or phones or Internet. All they have is their desire for Brad Womack and their desire to keep him from everyone else. When Brad's not around, when he's out on a date with someone or he's eating cereal alone with his shirt off, they have nothing to do but sit around that "Bachelor" mansion and talk about him and each other.
Even worse, an astounding number seem to be carrying huge emotional scars from their past relationships with men. They've all been either abused or left or divorced or widowed. And now they're trying to heal their wounds on "The Bachelor." So you know that's not going to end well.
That makes "The Bachelor" terrible because these women deserve better than to have their pain exploited for crass television and laughed at by assholes like me.


But that also makes it amazing because, on a socialogical level, it is absolutely fascinating to see just how quickly the rules of polite society vanish when you put 20 women in a house, take away all forms of entertainment and communication, and tell them to all fall in love with the same man at once. Also, it's really funny.
It Absolutely Tortures The Contestants
The structure of any given episode of "The Bachelor" is as follows: the remaining female contestants sit around a large and extraordinarily well-lit mansion waiting for a communiqué from Brad Womack. He goes on a one-on-one date and decides whether he'd like to keep that woman around, then a group date with most of the rest of the girls and decides which of that group he'd like to keep around, then a second one-on-one date with another bachelorette he has to decide to keep or dump. At the end of the episode he has to hand out roses to the rest of the women he wants to stay. Anyone who doesn't have a rose at that point has to hit the bricks.
The show doesn't ever explain how Womack picks the women for the one-on-one dates. But I'm beginning to suspect that Womack has nothing to do with it all all, and that it's actually the producers who pick which companion he takes where. Because without fail, every date the Bachelor has is the worst possible date he could have imagined for that woman. So either Womack is the most insensitive and unluckiest man on the planet or the producers are intentionally picking the contestants most likely to hate each date they've planned.
For example, last week on the show Womack went walking on the ocean floor with Chantal (who hates deep water) then later went rappelling down the side of a skyscraper with Michelle (who hates heights). You might have heard about next week's notorious group date where Womack takes a NASCAR driver's widow named Emily to a NASCAR track. Sounds bad, but it couldn't be any worse than date Brad and Emily's first date, when Womack flew Emily in a private plane not unlike the one that her husband died in so he could wisk her away to a "romantic" picnic at a winery.
That makes "The Bachelor" terrible because in any other situation, in any other context, that would be Brad and Emily's first and last date. But "The Bachelor" loves to portray these nightmare rendezvous as important personal milestones. They're conquering their fears as they're falling in love!

But that also makes it amazing because you get to watch these poor women freak out and sweat, and cry, and shatter that veneer of fake charm that they wear at all times on the show because they know they're on camera and don't want to look bad in front of a couple million people. And even though I know I shouldn't, I really enjoy that. And if you're watching "The Bachelor" and you're being honest, you do too.

You can watch every episode of this season of "The Bachelor" on Hulu.