20 Most Remarkable First Film Roles By A Musician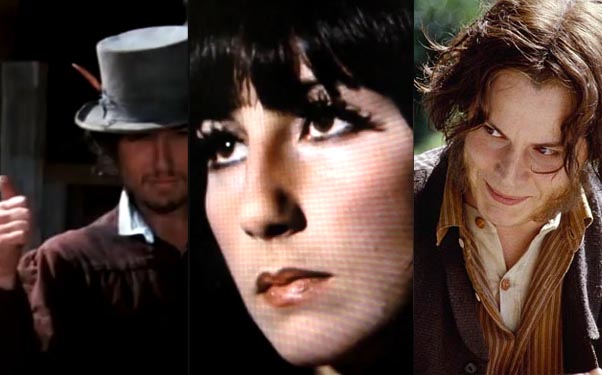 Posted by Brandon Kim on
Some musicians have a distinct advantage when it comes to launching an acting career, bringing celebrity and a fan base to the bargaining table that can add crucial appeal to their early prospects. However, musicians (and we use the term loosely), rappers and singers must also struggle with the preconceived notion that comes with them, to the ruin of many who cannot break free of their tabloid typecasting. But this can also be their greatest asset — there is nothing audiences love more than watching someone defy expectation, other than perhaps a star, defying expectation. Many have tried, most have failed. Everyone from Michael Jackson to Mos Def, Method Man to Mick Jagger, have dabbled in acting with varying degrees of success. Most recently, Justin Timberlake has come out strong in "The Social Network," but we decided to focus on the early role, the first real performance of some of the best crossover talents (and Timberlake in "Edison Force" didn't make the cut). These are 20 of the most remarkable.
20. Cher — As Chastity in "Chastity"
Given that the 1969 film "Chastity" provided Cher with her first dramatic role, the fact that she is on this list at all is a testament to her remarkable run of film roles in the 1980s. "Chastity," a film written and produced by Cher's, ex-showbiz partner, ex-manager, and ex-ball-and-chain Sonny Bono, is bad enough to warrant commentary from puppets. Verging on exploitation, the film follows a young woman, Chastity (Cher), as she negotiates the not-so-groovy summer of love while hitch-hiking across the United States. She finds love, loses love and then winds up working as a whore in Mexico avoiding the come-ons of the lesbian madam. Then she has a nervous breakdown.
The writing and filmmaking are so incredibly bad that one's initial response is to excuse Cher's performance as the fault of Sonny and one-and-done director Alessio de Paola (which we're inclined to do), but those big brown eyes can't hide can hide that Cher often walks lugubriously through the frame like a narcoleptic on a Haldol drip and delivers lines… like a narcoleptic on a Haldol drip. "Chastity" is perplexing because it is so discordant with her later rolls which so established her in the Hollywood firmament.
It took 13 years, and a complete break from Sonny, before Cher ventured forth into film acting again, in Robert Altman's "Come Back to the Five and Dime Jimmy Dean, Jimmy Dean" which some may argue is her first real role… though we're still a bit preoccupied with this:
Most Iconic Role — Loretta in "Moonstruck"
In "Moonstruck," Cher displays her ear for American accents and a gifted sense of comedic timing as Brooklyn widow, Loretta Castorini. The film, which depicts with operatic excess the events surrounding Loretta's romance with Johnny Camereri (Nicolas Cage), won three Oscars including Best Actress for Cher. –JC
---
19. Art Garfunkel — Captain Nately in "Catch-22"
Maybe Art Garfunkel didn't write all those hit songs and maybe his solo career was less successful, but he absolutely crushes Paul Simon when it comes to acting. Although Garfunkel has not made many movies, his first two film roles are worth enough of placing him on this list. In "Catch-22" (1970), Garfunkel plays callow, 19-year-old Captain Nately, and although it is a smaller role in a film full of legendary actors, he shines in it. In a scene in which Nately is disabused of his naïve beliefs about America by a grizzled old Italian man (Marcel Dalio), Garfunkel perfectly captures the young American's cocksure, wide-eyed belief in American exceptionalism. Garfunkel's performance so impressed director Mike Nichols that he chose to cast him again the following year in "Carnal Knowledge."
Most Iconic role: Sandy in "Carnal Knowledge"
In "Carnal Knowledge," Garfunkel once again plays a naïve, idealistic young man, but here we watch him transform into a disillusioned adult who ends up cheating on the wife he once thought would bring him bliss. Even though the roll is far more complex and demanding than Captain Nately, Garfunkel rises to the challenge and does not look remotely out of place next to an in-his-prime Jack Nicholson. –JC
---
18. Jack White — Jack in "Coffee and Cigarettes"
Jack White and his fake sister-wife Meg White came to notoriety with their Detroit garage rock band The White Stripes. Jack has proved himself to be a skillful musician easily moving from piano to drums to guitar. The fame associated with a critically-acclaimed music career brought White opportunities to act. While he was arguably playing himself, in the segment of 2003's Jim Jarmusch film "Coffee and Cigarettes," Jack White's acting skills were apparent. His role in "Jack Shows Meg His Tesla Coil" was played with good humor and ease showing that if he wanted to step in front of the camera, he could have a steady paycheck.
Most Iconic Role: Georgia in "Cold Mountain"
His next role, in Anthony Minghella's Civil War epic "Cold Mountain" proves that Jack White has the acting chops to compete with some of the best in the business. As the mandolin player Georgia who woos Renee Zellweger's Ruby Thewes, White was able to combine his skills on camera with his musical abilities. Even as a newcomer, White makes himself noticed amid a cast of cinematic veterans like Jude Law and Nicole Kidman. Since "Cold Mountain" his only notable role was a bit playing Elvis in the Judd Apatow screenplay, "Walk Hard: The Dewey Cox Story." Acting appears to be just another line on White's resume, as he's been too busy producing albums with Loretta Lynn, Wanda Jackson, and Conan O'Brien and making music with his bands, including the Dead Weather, to step in front of the camera. –ML
---
17. Dwight Yoakam — Bobby Lomax in "The Little Death"
When one considers that country music legend Dwight Yoakam was initially rejected by a Nashville scene not remotely interested in his old time Honky-tonk sound, it isn't too surprising that he managed to rebound from a dreadful performance in a monumentally dreadful movie to forge a successful acting career. "The Little Death" has the stench (and appropriate title) of late night crotch-grabbing Cinemax programming circa 1997 and, other than Yoakam, an unremarkable cast to go with it. Yoakam plays a psychopathic photographer who murders the wealthy husband of the woman he is stalking. The best thing about this role is that it provided an opportunity for Yoakam to play a tremendously unhinged villain which he would refine in his breakout performance, "Sling Blade."
(Watch Yoakam crotch grabbing at about 1:30)
Most Iconic Role — Doyle Hargraves in "Sling Blade"
Yoakam's next film catapulted him into the national spotlight as a true crossover talent. In "Sling Blade," he plays another unhinged villain, but the difference between his portrayals of Doyle Hargraves and Bobby Lomax could not be more stark. It may be the magic that only a great script can provide, but when comparing the two performances it's clear that while working under the direction of Billy Bob Thornton, Yoakam ceased being a musician trying to play an actor and became an actor playing a great role. –JC
---
16. Bob Dylan — Alias in "Pat Garrett & Billy the Kid"
Stars Kris Kristofferson (Billy the Kid) and James Coburn (Pat Garrett) both championed Dylan's involvement in this Western, arguing with director Sam Peckinpah that Dylan should be hired to compose the score. Peckinpah — whose only knowledge of Dylan was that kids used to listen to him — was reluctant to turn the score over to someone he didn't know, but he agreed to let Dylan play for him one night after a cast dinner on location in Durango, Mexico. Dylan's playing reduced Peckinpah to tears, and as he dabbed his eyes with a handkerchief he barked the direction, "sign him up." Dylan was immediately hired, not only to score the film but to also play the character Alias. The role does not ask much of Dylan as an actor, other than to be amusingly cool, but even just having him there saying "plums" is worth it. Of course his soundtrack was totally integral to the film and the climactic "Knockin' on Heaven's Door" scene is classic.
Most Iconic role — Bob Dylan in "Don't Look Back"
Okay, so this isn't technically a role…but we just couldn't name Jack Fate from "Masked and Anonymous" iconic. There is simply no filmic image of the man more iconic than the Subterranean Homesick Blues "music video." Dylan standing in a London alleyway tossing away a stack of cue cards while Allen Ginsberg stands in the background having a conversation next to a pile of garbage, has inspired countless ripoffs and parodies, and is often cited as the first music video. –JC