Ryan Reynolds Escapes Two "Buried" Indies, Samuel Fuller Freakouts and More New DVDs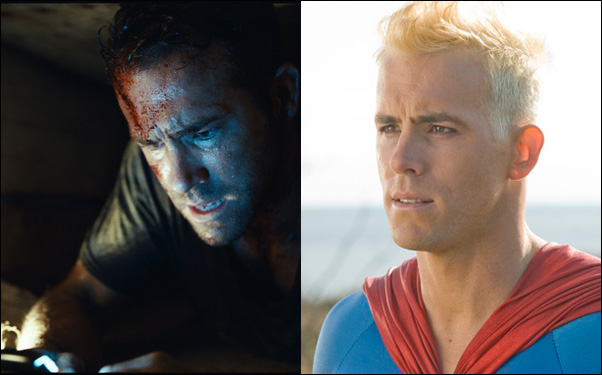 Posted by Stephen Saito on
A look at what's new on DVD today:
"Buried"
Directed by Rodrigo Cortes
Released by Lionsgate
"Paper Man"
Directed by Kieran and Michele Mulroney
Released by MPI Home Video
While one can't feel too badly for the future "Green Lantern" star and People's sexiest man alive, Ryan Reynolds' two stabs at glory outside the beaten path went largely unseen, which is particularly a shame in the case of Rodrigo Cortes' "Buried," the thriller where Reynolds has no acting partner but a cell phone as a military contractor who finds himself trapped in a coffin with no knowledge of how or why he got there. A success at Sundance, Lionsgate scrapped expansion plans for the film when it didn't do well in limited release, so home video will be the first chance for many to catch it. Still, that was a considerably bigger success than "Paper Man," which snuck in and out of theaters in the spring despite its big name cast. The dramedy features Reynolds as the imaginary superhero pal of Jeff Daniels' struggling writer, whose writer's block and desire to leave a mark on the world also leads to befriending a teen (Emma Stone) he takes a spark to – it's also available on VOD. (My interview with Cortes and Reynolds is here.)
"Animal Kingdom"
Directed by David Michôd
Released by Sony Pictures Home Entertainment
Currently riding high on an Oscar push for the film's duplicitous matriarch Jacki Weaver after having won the Sundance Film Festival's World Cinema Dramatic Competition, David Michôd's moody directorial debut stars Ben Mendelsohn as the 17-year-old nephew of a well-known Melbourne underworld figure who attempts to break away from his family's criminal ways, with the help of a possibly crooked cop (Guy Pearce). (Alison Willmore's interview with Michôd is here.)
"Army of Crime"
Directed by Robert Guédiguian
Released by Lorber Films
Simon Abkarian and Virginie Ledoyen play the couple at the center of a revolt against the Nazi occupation in this historical epic from French director Robert Guédiguian.
"Checking Out"
Directed by David Leland
Released by Image Entertainment
Long before "Paper Man," Jeff Daniels was having a midlife crisis in this Joe Eszterhas-penned comedy from 1989 about a man whose young neighbor dies setting him off into a panic.
"The Dogfather"
Directed by Richard Boddington
Released by Image Entertainment
Chris Parnell stars in this comedy about a family man who takes in an orphaned bulldog for his son, not knowing that the dog swallowed the ring of a mob boss, who sends two goons to get it back.
"Down Terrace"
Directed by Ben Wheatley
Released by Magnolia Home Entertainment
Like "Animal Kingdom," Brit director Ben Wheatley's directorial debut is a crime thriller concerning a family of criminals, but far funnier when a father and son are released from prison and try to find their proper place within both their immediate family and their other one. (My short review from Fantastic Fest is here.)
"Eichmann"
Directed by Robert Young
Released by Entertainment One
British helmer Robert Young recounts the final hours of Holocaust mastermind Adolf Eichmann (Thomas Kretschmann) after he is captured by Argentine authorities and sent to Israel where he is interrogated by a young officer (Troy Garity) before he's set to be executed. "Run Lola Run" star Franka Potente plays the officer's wife.
"El Superstar: The Unlikely Rise of Juan Frances"
Directed by Amy French
Released by Cinema Libre Studio
Odd couple George Lopez and Norman Lear both lend their name as executive producers to Amy French's mockumentary about Juan (Spencer John French), a Beverly Hills-born Caucasian who is taken in by a Latino family at the age of three and groomed to become a successful singer/songwriter in the Tejano music mold. Danny Trejo makes an appearance as Juan's stepfather while Lupe Ontiveros plays his adoptive mother in this comedy inspired by the Frenches' experience of growing up in Echo Park.
"Freakonomics"
Directed by Seth Gordon, Morgan Spurlock, Alex Gibney, Eugene Jarecki, and Heidi Ewing and Rachel Grady
Released by Magnolia Home Entertainment
An group of documentary all-stars including "Super Size Me" director Morgan Spurlock, "Client 9" director Alex Gibney, "Why We Fight" director Eugene Jarecki and "Jesus Camp" helmers Heidi Ewing and Rachel Grady take on this adaptation of Steven Levitt and Stephen Dubner's bestselling tome on unusual economic realities, from Spurlock's segment on the relationship between naming your child and financial prosperity and Ewing and Grady's look at incentive-based education. (Evan Narcisse's interview with producer Seth Gordon is here.)
"Jack Goes Boating"
Directed by Philip Seymour Hoffman
Released by Anchor Bay Entertainment
For his directorial debut, Hoffman adapted Bob Glaudini's 2007 LAByrinth Theater Company production for celluloid, putting in pals John Ortiz and Daphne Rubin-Vega to reprise their roles as a married couple that sets up their wannabe Rastafarian friend (Hoffman) with a fellow pothead (Amy Ryan). (Alison Willmore's review of the film is here.)
"Lebanon"
Directed by Samuel Maoz
Released by Sony Pictures Home Entertainment
A Golden Bear winner at Venice, Samuel Maoz's autobiographical potboiler illustrates the blood and tears that have gone towards achieving a hard-won truce, as he follows in the footsteps of fellow former soldier Ari Folman's "Waltz With Bashir" in detailing the endless hours of sweating out the First Lebanon War in a tank as a gunner in the Israeli military.
"Married Men and Single Women"
Directed by Steven Drayton
Released by Maverick Entertainment Group
Think Tyler Perry's "Why Did I Get Married" for Steven Drayton's drama about three couples facing the impact of infidelity on their relationships.
"The Naked Kiss" and "Shock Corridor"
Directed by Samuel Fuller
Released by The Criterion Collection
Sold separately, Criterion already released two of Samuel Fuller's finest films of the 1960s, but is updating them both in Blu-ray and with new Daniel Clowes' covers as well as a new supplements including a fresh interview with star Constance Towers on both "The Naked Kiss" and "Shock Corridor," in addition to much more.
"Running Wild"
Directed by Duncan McLachlan
Released by Screen Media Films
This 1992 Brooke Shields drama finally sees the light of day on DVD, tracking a television reporter (Shields) who travels to South Africa where she meets a documentarian (Martin Sheen) who has spent over a decade watching and protecting a family of cheetahs.
"Sins of My Father"
Directed by Nicolas Entel
Released by Maya Home Entertainment
Director Nicolas Entel tells the story of a son trying to escape the shadow of his father — who happens to be Pablo Escobar. Sebastián Marroquín, now 32, recounts life growing up with the legendary drug lord as a dad and even seeks out out the children of some of those his father murdered in order to bring some closure to the victims.
"Stone"
Directed by John Curran
Released by Anchor Bay Entertainment
A retiring parole officer (Robert De Niro) gets the most trying case of his career when the wife (Milla Jovovich) of a convict, whose sentence is up for review, attempts to seduce him in John Curran's drama that got short shrift back in the fall after its distributor was sold. (My review of the film and Matt Singer's interview with Norton are here.)
"Takers"
Directed by John Luessenhop
Released by Sony Pictures Home Entertainment
T.I., Paul Walker, Idris Elba, Chris Brown, Michael Ealy and Hayden Christensen star as a gang of thieves whose latest armored car robbery leads a pair of cops (Matt Dillon and Jay Hernandez) to finally track them down and bring them to justice. Even with real stunts and a star-studded crew, the main attraction, however, is Christensen's porkpie hat.
"Triggerman"
Directed by Giulio Base
Released by Lionsgate
Paul Sorvino and Terence Hill head to the Wild, Wild West for this western about a gambling tournament that is rudely interrupted by a wily gunslinger.
"The Virginity Hit"
Directed by Huck Botko and Andrew Gurland
Released by Sony Pictures Home Entertainment
"The Last Exorcism" writers Botko and Gurland blur the line between reality and fiction with this raunchy sex comedy produced by Will Ferrell and Adam McKay about three friends who are trying to help their friend get laid for the first time.
["Down Terrace," Magnolia Pictures, 2010; "Jack Goes Boating" and "Stone," Overture Films, 2010]