Red Faction TV Movie Fills in the Blanks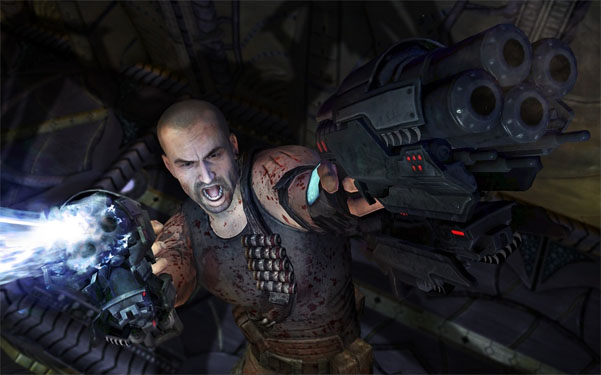 Posted by Chris Plante on
"Red Faction Guerrilla" was a politically subversive, open world video game about Martian insurrectionists who refuse to be further exploited for their land's natural resources; "Red Faction Armageddon", its sequel, is more traditional and polished genre fare with linear levels and blood thirsty aliens. Often a decision to redirect a franchise in this way goes unexplained, leaving fans to fill in the blanks, but publisher THQ has a different strategy in mind: the made for TV movie.
In February 2010, THQ partnered with television channel SyFy to collaborate on crossmedia properties. The first project would be an animated program for SyFy Kids based on then Wii-exclusive, now multi-console friendly "de Blob" games.
Not much has been said of "de Blob" since, but a made for TV movie set in the "Red Faction" universe has slowly come to fruition. "Red Faction: Origins" follows the children of "Red Faction: Guerrilla" protagonist Alec Mason.
The film stars a bevy of character actors that sci-fans will likely love to see in an adventure set on Mars: Brian J. Smith ("Stargate Universe"), Robert Patrick ("Terminator 2: Judgment Day"), Kate Vernon ("Battlestar Galactica"), Danielle Nicolet ("The Starter Wife"), Gareth David-Lloyd ("Torchwood"), Tamzin Merchant ("The Tudors") and Devon Graye ("Dexter").
How the story connects with "Armageddon" is unclear. We know some of these actors will play the brethren of Darius Mason, the star of "Armageddon", born 150-200 years later. Where the bug-like aliens and a wrecked Martian surface plug into the story, however, is a mystery. One for which we'll probably need to tune in this May to uncover.