"Primer" Director Working on "Brick" Director's Upcoming Time Travel Film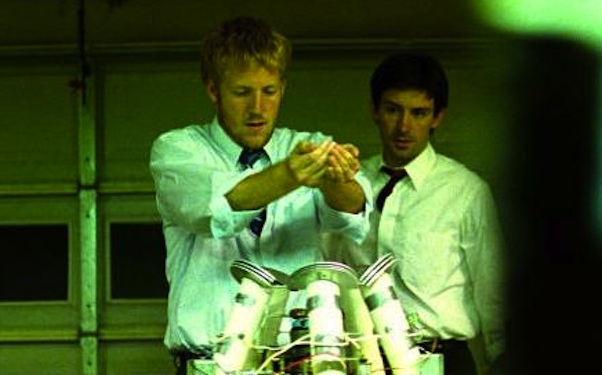 Posted by Matt Singer on
The official Twitter account of director Rian Johnson's upcoming movie "Looper" posted a picture of director Shane Carruth on set with the following message:
Shane Carruth is working on "Looper."

If you haven't seen his film "Primer," run don't walk.
Good advice. If you haven't seen "Primer," that's Carruth's superb and uber-brainy 2004 time travel film which won the Grand Jury Prize at that year's Sundance Film Festival. "Primer" also famously cost just $7,000, in large part because Carruth did basically everything on the film: he wrote, directed, produced, co-starred, edited, scored, sound and production designed, and even cast the film himself (IMDb is frustratingly vague on whether he also provided the catering). In other words: this guy knows how to make movies in general, and time travel movies in particular. If you're a guy like Rian Johnson, the very talented director of the high school set film noir "Brick," and you're making your first entry into the genre, he's a good man to have on your team.
As to the specifics of Carruth's duties on "Looper," Badass Digest's Devin Faraci spoke to Johnson, who says Carruth is working on "some effects for the time travel sequences." But I guess if the time travel elements of the script needs a little tightening, we know who he's going to call. "Looper," which stars, Bruce Willis and Joseph Gordon-Levitt as the same guy in different time periods, is currently scheduled to premiere sometime in 2012, or earlier if they get their flux capacitor working.