Premiering Friday: The Onion News Network and Portlandia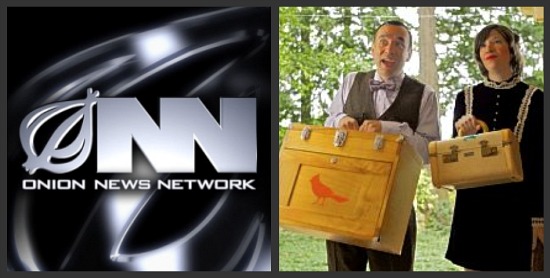 Posted by Melissa Locker on
You know when you're watching a great film, like, say, The Hurt Locker, and you are holding your breathe in excited anticipation as Jeremy Renner [spoiler alert] defuses a bomb? That's what we've been like waiting for our new shows to arrive on the air. The Onion News Network and Portlandia premiere this Friday on IFC beginning at 10 p.m. ET/PT.
The Onion News Network hits cable TV and promises to broadcast at least ten decibels louder than the competition. Expect hard-hitting reports uncovering such news-worthy topics as startling connections between Facebook and the CIA.
Portlandia is a sketch comedy show starring Fred Armisen of "Saturday Night Live" and Carrie Brownstein from Portland rock band Sleater-Kinney. The show lovingly (and hilariously) skewers a dreamy and absurd rendering of Portland, Oregon from the bicycle rights activists to the feminist bookstore owners.
To help ease your anticipation here are a few clips from the new shows. Don't worry, no 'splosions:
Here is ONN's Brooke Alvarez in action, reporting a breaking international news story:
And here's an introduction to the world of Portlandia:
The Onion News Network premieres at 10 p.m. ET/PT followed by Portlandia at 10:30 p.m. ET/PT