Peter Weir Takes the Long "Way Back"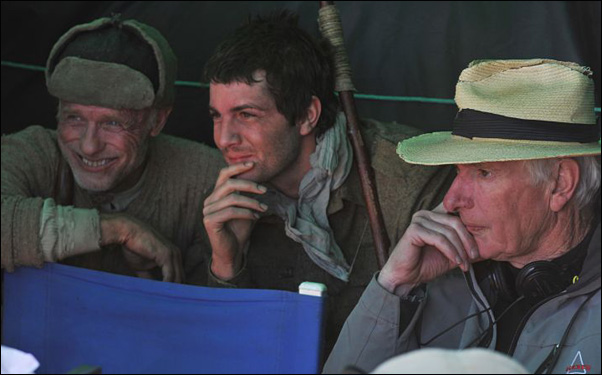 Posted by Nick Schager on
From "Picnic at Hanging Rock" to "The Truman Show" and "Master and Commander: The Far Side of the World," Peter Weir's filmography is rife with tales of men engaging with imposing environments, a fixation that continues with his newest film "The Way Back," the real-life saga of three men who, in 1940, escaped a Russian gulag and traveled by foot to India – a trek spanning thousands of miles across five countries. Weir's latest may feature big-name stars Colin Farrell and Ed Harris in an epic adventure, but in style, tone and content, it's an anti-blockbuster of the first order. Shot by longtime Weir collaborator Russell Boyd with a combination of landscape majesty and close-up intimacy, it's a narratively straightforward portrait of determination, survival and absolution that the writer/director layers with subtle thematic and emotional depth. On the eve of last week's 11-film Lincoln Center career retrospective, Weir spoke about the veracity of "The Way Back"'s source material, the "gamble" of making films for adults, and how being a director is sometimes like being a school headmaster.
Why was there a seven-year gap between "Master & Commander" and "The Way Back"? Was it difficult finding a new project, or putting this particular one together?
No, it was really just a series of projects – three in total – that, frustratingly, just didn't come together for different reasons. I think they were films that I wasn't meant to make. That's my rationalization on it. But I did have to draw on deep reserves of patience, because I thought "God, there can't be another one that goes south." I think it was 2007 that I was sent the book [Slavomir Rawicz's "The Long Walk: The True Story of a Trek to Freedom"] that became the inspiration for this film, and that was the one to make.
What was it about the book that first sparked your interest?
Generally speaking, I think it's profoundly an emotional experience. It's more than intellectual and, therefore, not necessarily immediate. Over the days that I'd read it, it would come back to me and, in some ways, I would find it quite touching. I would think, "What is it about human nature, about the human spirit, that can endure so much, and yet keep going? What is it to survive?" I'd been touched by the book and thought that if I can bottle that lightning and pass it on to the audience, then they'll feel what I felt.
I've read reports that Rawicz may not have actually been on the walk, but instead may have heard the story and claimed it as his own.
Yes, it's that maybe he wasn't on the walk. It's documented that he was in a gulag, [as] a Polish officer who had – along with the majority of the Polish military in the Soviet zone in Poland – been sent in 1939 to the prisons. We know that they murdered a lot of them. But was he on the walk? I said to the producers that I couldn't do the film unless I knew the walk occurred [and] that we can work around [Rawicz] and fictionalize it, but I've got to know there was a walk – that was what moved me. I didn't particularly want to make the life story of the author. And that's what we found. We got the evidence and I was happy, and so I could retitle it, and even reintroduce some other characters, and redraw those characters, all based on either interviews with survivors or from true accounts. I set myself that standard, so I would have a reality that I was dealing with.
You have a reputation for being very interested in historical details. Where did you start, in terms of research, after reading the book?
In this case, I think there were three key steps. One was to go and meet Cyril Delafosse-Guiramand, a young French guy in his late 30s, [who] walked this walk inspired by the book some time after 2000. He started off in Siberia and he walked all the way to India. So I had to meet Cyril. He was up in Laos, and I flew to meet him, and had him tell me what it was like — in the Gobi, in the forests north of Siberia. So he became vital. A lot of what he said I put in the script, then he became a member of the crew, and he helped the actors.
Secondly, I went to the locations – particularly to Mongolia, China and Siberia. And thirdly, I met survivors in Moscow (Russians obviously), and then in London, I met with Polish gentlemen who had survived and, in one case, one who had escaped. So those where the three key areas. And then, lots of reading. I've got quite a library.
Was there ever a thought about not shooting on location?
Generally, I believe in faking as much as you can, so that your actors are as comfortable as possible to do what they're trained to do. In other words, it doesn't make the performance better just because you go and climb a mountain. You can put up a fake mountain in the studio and make them work more on their performance. In this case, I did think it was important to go to the real places, or facsimiles of them — four thousand miles, and through all the seasons, from blizzards in Siberia to the scorching desert to the Tibetan plateaus on to India. So I firstly cast those parts, if I can call the landscapes actors. I couldn't shoot in Siberia, so we shot in the forests of Bulgaria. I couldn't shoot in the Gobi desert for various reasons, so we used the Sahara. We shot in India, at Darjeeling.