Pavement Has Their Cake And Eat It Too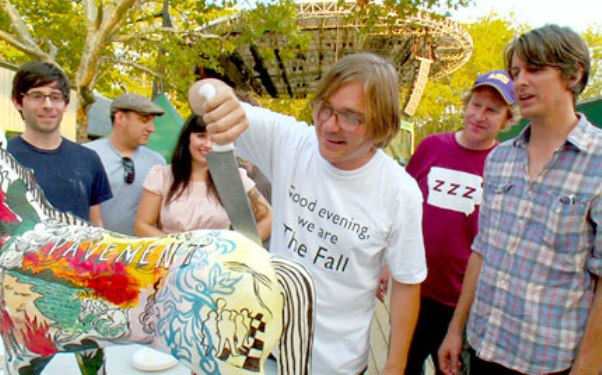 Posted by Brandon Kim on
When the "Ace of Cakes" bakers found out about Pavement's reunion last year they approached the band about baking a cake for them, but it wasn't an easy sell getting the indie heroes interested in being on a cable show about baked goods. Multi-instrumentalist and horse breeder, Bob Nastanovich, was familiar with the show ultimately convincing Stephen Malkmus and the rest of the band to agree.
"Even when we made a cake for Lucasfilm, they asked us to do it," pastry chef Duff Goldman told SPIN. "This was us saying, 'Because we think you're awesome and we're stoked that you're going to be playing this show, we want to make a cake.'"
They also wanted to get in to see the concert. The resulting sweet was an incredibly Pavement conjuring horse cake, designed by the show's cake decorator Elena Fox (who also plays bass in Baltimore's Squaaks). Nastanovich was thrilled. "It was very pretty and it was very big and, of course, I'm a huge fan of horses and still own several of them," Nastanovich said. "It's sad to say that the white chocolate horse moved a lot faster than a lot of the ones that I've bred."
The "Ace of Cakes" Pavement episode of airs Thursday, Jan. 20th at 10 PM EST on Food Network. You can watch a clip from the episode on SPIN.
Bakery chef Adam rightly decided the cake should be mud slide flavored "in honor of one of pavement's early songs, called 'Debris Slide.'" Ah, the delicious early 90's sound of "Westing (By Musket and Sextant)." That's how I like my cake.

Pavement — "Debris slide"