A Spirited Q & A With "Blue Valentine" Actress Michelle Williams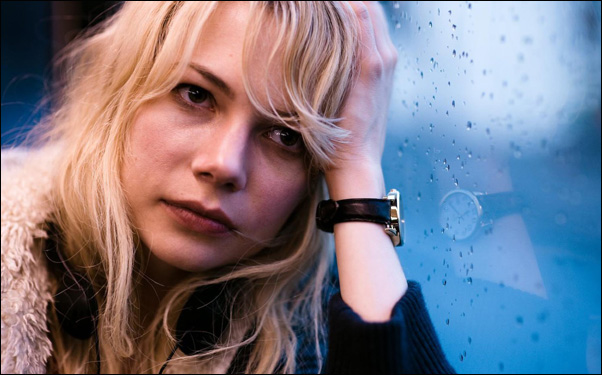 Posted by Stephen Saito on
As a way of celebrating this year's nominees for the Spirit Awards in the weeks leading up to the ceremony, we reached out to as many as we could in an effort to better understand what went into their films, what they've gotten out of the experience, and where they've found their inspiration, both in regards to their work and other works of art that might've inspired them from the past year. Their answers will be published on a daily basis throughout February.
"I don't know what's in my life that's current," Michelle Williams says when asked if she had a favorite piece of art from the past year. She was referring to music mixes that she's "kind of been living hand to mouth on" of late, and yet it felt all too appropriate a response when it feels like her own gifts as an artist are timeless. There's no wonder that her triumphant return to the screen began in 2010 as the elusive wife to Leonardo DiCaprio's bedraggled U.S. marshal in the 1950s-set "Shutter Island" and culminated in a turn as a 1840s frontier woman in the soon-to-be-released and Spirit Award-nominated western "Meek's Cutoff." While each of those roles tested her ability to pull any role into the here and now, they drew upon the same vulnerability and emotional precision that makes her performance in the Derek Cianfrance's contemporary romantic drama "Blue Valentine" such an awesome achievement to behold.
If there was any joy to be taken away from the heartbreak of "Blue Valentine," it came out of a deep appreciation for the depths Williams and Ryan Gosling were willing to plumb for the sake of an audience. As married couple Cindy and Dean, the two convey the ecstatic highs and crushing lows of a pair that is slowly unraveling after having adulthood, complete with a child and the responsibilities that entails, thrust upon them. Following the film's premiere at Sundance, Williams admitted to IFC.com's Alison Willmore that it was a character that "scared the shit out of me and Derek [Cianfrance, the director] talked me down off the cliff more than once." That Williams is always willing to walk up to that edge time and again makes her the very definition of what the Spirit Awards is intended to honor and why it is only fitting our month-long fete of this year's nominees begins with her.
Why did you want to make this film?
Where do I start? I've wanted to make this film since I was 22 years old and I'm 30 now, so I've found now in those eight years reasons – new reasons, different reasons – to want to make this movie. It changed as I did.
What was the best piece of advice you received that applied to the making of this film?
I'm trying to think because it's been so long now. The thing that comes to mind is what I was thinking about during the last film I was making, so I'm going to steal it. It's Nijinsky's reply to the question, how did he jump so high? He said, "Well, I go up and I stay a bit." Something about the simplicity and that effortlessness doesn't have to be ephemeral, that it can be as concrete of an idea as anything else. That's moved me.
What was the toughest thing to overcome, whether it was a particular scene or the film as a whole?
Toughest thing to overcome – I hadn't worked for a year, so I felt rusty and I had to overcome that and quick.
What's been the most memorable moment while you've traveled with the film, either at a festival or otherwise?
Every time I see Ryan and Derek, I just…I miss them and I get happy to see their faces.
What's your favorite thing about the film that's been largely uncommented upon?
I think one of my favorite moments in the movie is when Ryan's interviewing at the moving company and the boss says, "Can you get here early?" He's like, "Yeah, I can get here early. What time?" And the boss says, "Seven a.m." – the look on Ryan's face. Nobody's mentioned it and I would watch the movie again, and I've seen it six times, just so I can have the pleasure of that moment.
What's been the most gratifying thing for you to come out of this movie personally?
Like I said before, I was hesitant to go back to work. It had been a long time and I didn't know if there was going to be anything in me and this movie brought me back to life creatively. It made me excited to go to work and it continues to make me excited to go to work because I discovered a new approach.
Have you had a favorite film, book or album from the past year?
A few things come to mind. I'm reading the Patti Smith book "Just Kids" right now. I'm way into that. Also, I read this book called "Poets on Poetry" that I found very moving and very relatable to acting.
"Blue Valentine" is currently open in theaters across the country. The Spirit Awards will air on IFC on February 26th.