Michel Gondry's Different Shade of "Green"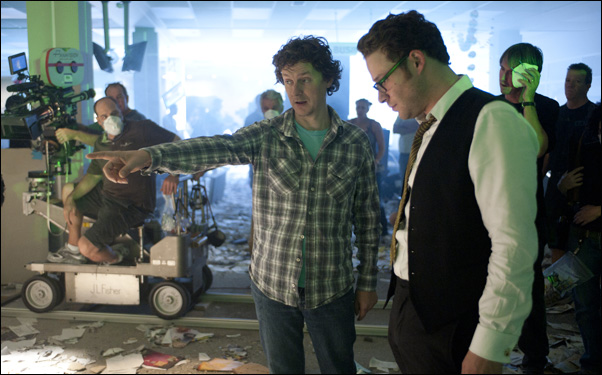 Posted by Stephen Saito on
At Comic-Con, usually the last place one would go for personal confessions, Michel Gondry told an aside about the stereoscopic club in France that his grandfather was president of, clearly not realizing the audience really only wanted to hear how badass the 3D in "The Green Hornet" would be. Those same people may not be all that interested in how the film is a culmination of personal quirks and professional craftsmanship for the director of "Eternal Sunshine of the Spotless Mind" and "Be Kind Rewind," but they should know it's the reason why "The Green Hornet" is special.
From the opening frame of a child with a suspiciously Gondry-like mop of hair thrusting his arm out the car window with a superhero doll in hand to an anarchic montage that details the film's central conspiracy near the end, it's Gondry's childlike wonder (and mischief), clearly shared by screenwriters Seth Rogen and Evan Goldberg, that lets "The Green Hornet" glide where so many superhero stories have trudged before. The fascination with how things work give particular oomph to the mechanics of the action sequences and the joy of discovering one's strengths resonate because Gondry and Rogen are finding new muscles of their own. And so far, whereas Gondry's films have often had innocence undone by reality, here reality is no match for the fun to be had with masked crimefighters who have no use for laws.
It's almost a dark joke that this is all done in the service of a coming-of-age story – "The Green Hornet" follows the origin story of Britt Reid, a spoiled scion of a newspaper empire who must learn responsibility fast in the wake of his father's death — and it wouldn't be the only one in the film. But it's pure unbridled glee that powers Gondry's latest film forward, which is remarkable considering for the past few years this has been one of the most scrutinized and slow-simmering productions around, so much so Gondry was attached to direct the film in 1997 before a succession of other permutations involving Jet Li, Kevin Smith and Stephen Chow came and went. But for a man who once solved a Rubik's cube with his nose, it was just one more puzzle to figure out and he recently spoke to me about controlling chaos, why there's no crazy dream sequence in his biggest-budget film to date and what makes The Green Hornet so malleable.
Thematically, a lot of your films have dealt with characters trying to keep their innocence as they're becoming adults, so was it freeing for you to finally have characters that have to embrace being able to discover things for the first time?
It's a very good point you're making. I think creativity is really connected to being a kid because if you look at young cats, how they learn life is by playing. If you take kitties, you see them playing 75 percent of the day of waking time and it's how they learn. And sometimes it's cruel because they play with mice and kill it and they don't realize because they don't think the way we do about death and stuff. But it's how you train yourself to learn – it's by being playful. And I think humans share that. If you want to be creative, you have to put yourself in this frame of mind and that's theoretically connected to your childhood. And as an adult, you're sort of encouraged to lose that. And I think it's important to see what it is you might lose or keep because you want to be an adult.
You don't want to be a kid for everything. I have a child – he's an adult now, but I had to make decisions for his good and to be able to become an adult, but then when I'm directing a film and I want to create something, I have to remember how it was to discover the world. This joy I had when I saw the forest for the first time or I saw the street or the city for the first time and I want to be back in this place of wonder, so I taught my mind to switch from one side to another because when I'm a director, I have to be leading a lot of people and give them orders, otherwise you don't move forward, but then when it's time to be creative, I need to switch back to this frame of mind which you have as a kid, so it's a balance between both states.
One of the things you've been able to maintain throughout your career is a real handmade quality to your films. With such a large crew for "The Green Hornet," were you comfortable giving up more control than you had in the past?
It's not necessarily control, you know, Sometimes I get this effect by making sure there's a little bit of chaos that's maintained. Not that I want things to explode or collapse all the time, but when I say chaos, it's just a texture in life that you counterproduce if you control everything because life is so complex. If you look somewhere in the street, you have so many cars or people or animals and things that cross the frame and when you do a movie, you sort of have to wipe everything out and recreate it under the control of what you're allowed to do. If you want to make the audience feel they are watching real life, you have to recreate this chaotic aspect. It's introducing a level of uncertainty that nobody really can put their hands on and it's losing control over things in the way you desire.
The handmade quality is because I'm going to ask somebody to do something at the last minute before I can analyze it too much and it goes to the art direction. There is something when Seth goes into his mind and trying to piece things together [in the film's climax], we made that all practical, so we had so little time and so little money to do this extra piece of work that nobody could argue or really understand what was going on. They just went for it. Then it goes to the acting where people are challenged at the last second to change or try something different and then they don't know exactly why they're doing it, so they become more themselves. To me, the handmade quality could apply to the acting as much as the props.