"Mad Skills Motocross" Improves an NES Classic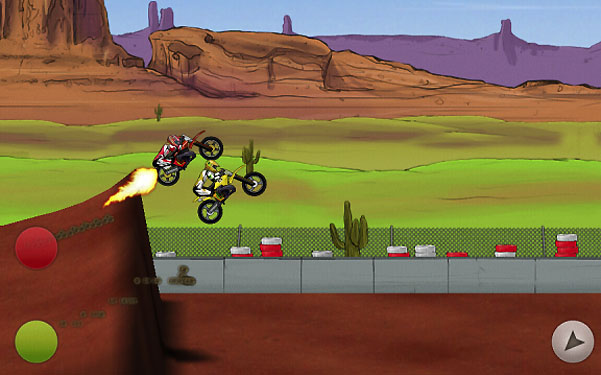 Posted by Chris Plante on
Yesterday we spoke about "HDification," the video game equivalent of a DVD double dip. We wish we'd hinted at the sad reality of video game rereleases: many old games simply don't age well. For every "Super Mario Bros." there's a "Crash Bandicoot". Rather than rerelease an outmoded game — either out of intelligence or more likely not owning the rights to the property — some developers dare to use the original as a launch pad. "Mad Skills Motrocross," now on iPhone and iPad, boldly improves the "Excitebike" formula, not just launching off it, but leaving the inspiration in the dust.
"Excitebike" was an NES motorcycle racing game in which a little biker hit jumps, popped wheelie and managed a quick-to-diminish, slow-to-replenish gas tank. Gas management, while still fun today, feels more sluggish than we remembered. The good folks at College Humor put it eloquently in this cartoon:
"Mad Skills Motocross" has a similar track presence. As a tiny racer, you still get to pop wheelies and hit jumps with abandon. But gone is the gas management, replaced by a more difficult AI and a bevy of skill moves."Mad Skills Motocross finally makes "Excitebike" something it couldn't be on the NES hardware: a high-speed racing experience.
"Excitebike" will live on forever in our sugary memories of after school NES sessions. "Mad Skills Motocross" is the new king of the road. One day, ideally, a competitor will dethrone it and by then "MSM" should have nostalgic memories of its own.