Lou Reed's Directorial Debut, "Red Shirley"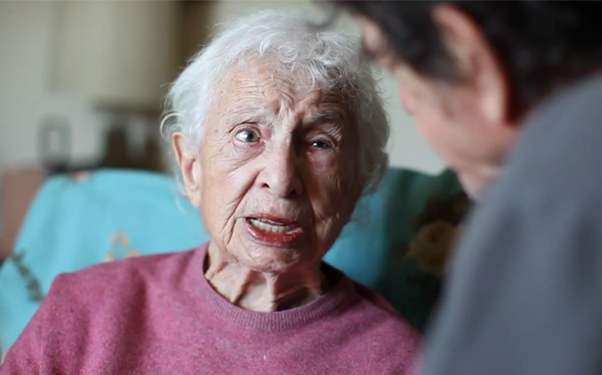 Posted by Brandon Kim on
On the eve of her 100th birthday, Shirley Novick, sat down for an interview about her storybook life with her first cousin (once removed), Lou Reed. A staunch unionist and social rights activist since emigrating to the US, Ms. Novick, dubbed "Red Shirley," for her left leaning inclinations, first fled her home in Poland during WWI after her home was destroyed by a dud shell. She came to Canada at age 19, and New York soon after, where she as lived since, avoiding the fate of the rest of her family in holocaust that followed in WWII.
Speaking to The Wall Street Journal, Lou Reed commented, "I've said to her, 'Shirley, how do you deal with all these things? You don't get angry, how do you deal with this?' And she said, 'Eh! I take what's given.' And she means it. Doesn't complain, doesn't try to get away. It's amazing. I think it's a form of enlightenment."
The film is the Velvet legend's directorial debut, a portrait of the feisty Novick, who still lives in the Chelsea Garment Worker Project apartment she's lived in for almost 50 years.
"This was an act of love," Reed said. "I realized if I didn't do this, a connection to a lot of things would be lost forever. So there was great impetus to do this." But he told the Journal that this didn't mean he was about to start making movies left and right. "The only other thing I would like to do is make a movie about martial arts. Like, travel around to different teachers and tournaments, compare techniques and training," Reed, who's found a passion for Tai Chi, revealed.
"Red Shirley," shot by portraitist Ralph Gibson (directed by and featuring Lou Reed) gets it's New York premiere this Saturday, at the 2011 New York Jewish Film Festival. It screens at the Film Society of Lincoln Center at 9:15pm.
Here's the trailer for the film:
And a few words from Shirley, a dedication to her one thousand year old town, that the Nazi's "wiped off" the face of the Earth: