Judd Apatow Working on "Knocked Up" Sequel (Sort Of)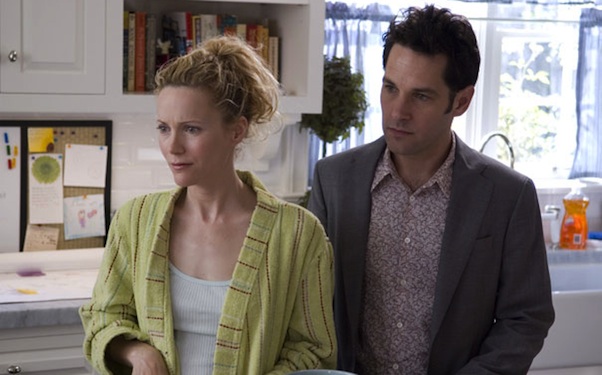 Posted by Matt Singer on
Drew McWeeny over at HitFix.com got an interesting scoop: word on the subject of Judd Apatow's follow-up to "Funny People." The film will be a sequel of sorts to "Knocked Up" starring the characters Pete and Debbie, played by Paul Rudd and Leslie Mann. Here's how Apatow described the project to McWeeny when asked whether the film would be a sequel or a prequel to "Knocked Up:"
"It is neither. It is just a story from Pete and Debbie's current life. People really responded to their characters and problems. I felt like there was a lot of ground I could explore with them, so we'll be shooting in July and will come out the following June. There are some fun details yet to reveal but I will let them come out slowly. It's more fun that way."
Eagle earned listeners — inventing expressions is fun, isn't it? — heard a couple hints about this project when Apatow appeared on the WTF Podcast With Marc Maron. Apatow invited Maron over to his house to record the show, and set him up in his office, where Apatow had a corkboard full of ideas for the film. Maron immediately started asking for the meanings of the incomprehensible scribblings. Apatow was understandably reluctant to explain what he was working on, but he did admit that the "Rudd" that popped up on a couple cards was Paul Rudd, and that he would be starring in the film.
This decision makes a great deal of sense to me. Though "Knocked Up" focused on the trials and tribulations of Seth Rogen and Katherine Heigl's characters after she gets pregnant following their one night stand, their onscreen relationship never clicked in the same way that Rudd and Mann's did (Mann played Heigl's sister). While the Rogen and Heigl storyline was loaded with contrivance, Rudd and Mann's was simple but perfectly observed. And it really should have been; since Mann is Apatow's real-life wife and their children were played by Apatow's real daughters, Maude and Iris. An argument could be made that the Rogen/Heigl storyline was really just an excuse for Apatow to spend time with the Rudd/Mann couple; that Apatow was hesistant to focus on their lives alone because their problems — spousal bickerings and misunderstandings — were mundane and truthful and not enlivened by the meet cutes and adorable misunderstandings that audiences seem to want to see in romantic comedies. "Knocked Up" audiences got all that stuff from Rogen and Heigl but connected more deeply with Rudd and Mann. I know I did.
I claim no inside information but that's why a movie that moves Pete and Debbie into the spotlight suggests a film less focused on sitcom-y premises and more in tune with the struggles of real people. At least I hope so, because that's what I think Judd Apatow is best at doing and that's want to see him do more of.