James Franco to Direct Faulkner, "Blood Meridian"?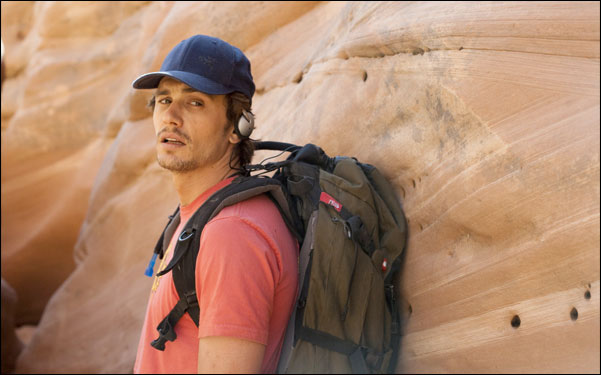 Posted by Alison Willmore on
He acts. He writes. He stars in soaps. He's directed a doc. He makes arty/silly-sounding multimedia projects. He's co-hosting the Academy Awards. He's enrolled in, like, three dozen graduate programs.
And now, according to Showbiz 411's Roger Friedman, James Franco is in talks to helm adaptations of William Faulkner's "As I Lay Dying" and Cormac McCarthy's "Blood Meridian," two of the great works of 20th century American literature.
"Blood Meridian," the rights for which are held by producer Scott Rudin, has been kicking around for a while now, with Ridley Scott and Todd Field among the names that have been attached.
As proof this news is real and not more performance art, here's Franco talking about the projects with EW's Keith Staskiewicz, who notes that the Faulkner novel, which has 15 different narrators and a famous stream of consciousness style, isn't going to make for easy adapting.
"You want to capture the tone, but you can't work in exactly the same way," says Franco. "I don't believe it'll feel the same if you divide it as rigidly as the book, like titles that say 'Cash' and then you're with Cash. You can slip into the characters' heads and give them their inner voice for a while, but it has to be more fluid because movies just work differently than books. Movies, in some ways because they deal in images, are more concrete. I want to be loyal to the book — my approach is to always be loyal in a lot a ways — but in order to be loyal I will have to change some things for the movie."
As for "Blood Meridian," which has its own remarkable and distinctive prose style and includes scenes of nightmarish violence which should prove tough to translate to screen, Franco reportedly got the gig by shooting a test sequence from the book, with all the trappings (among them Luke Perry).
Mark Pellegrino (a.k.a. Jacob from Lost) played the Judge — one of the most horrific villains ever to grace a work of American fiction — and the sequence also starred the likes of Scott Glenn, Luke Perry, and Franco's brother Dave, also an actor. "We made that as a way to convince Scott Rudin to give us the rights," Franco says. "It was like, why should he give it to me when Ridley Scott didn't make it? So I called him up and said, 'I'm planning on doing this. You don't have to give me any money, I can finance this shoot. Would you just wait? Don't do anything with it until I show this to you.' And I showed it to him and he loved it."
Franco's also optioned rights to a Sal Mineo biography, and he's just finishing his narrative directorial debut "The Broken Tower," a biopic about the poet Hart Crane. And of course he's made a handful of short films over the last few years. Below is a clip from one of them, 2007's "Good Time Max."