"Ip Man 2: Legend of the Grandmaster," Reviewed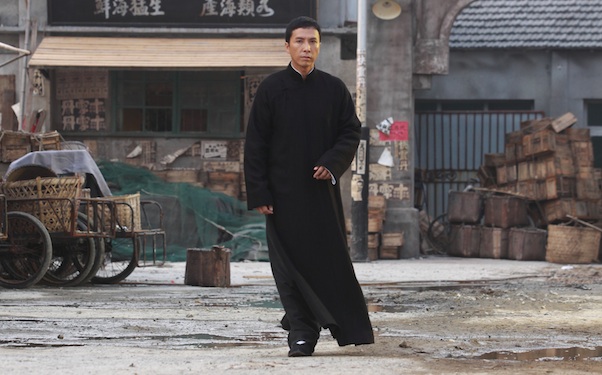 Posted by Matt Singer on
A version of this review originally ran as part of our coverage of Fantastic Fest 2010.
A kung fu master is asked by one of his students, "Master, could you fight ten men at once?" The master considers the question, then replies. "It is better," he says, "not to fight." Good advice anywhere but in a kung fu spectacular like "Ip Man 2: Legend of the Grandmaster." Better not to fight? In a martial arts film? Yeah right.
Thank God Ip Man (Donnie Yen) is a total hypocrite. He may preach nonviolence, but in practice, Ip's ready to throw down at any time for almost any reason. A kid comes to his school curious about his skills, he fights him. The same kid brings more friends to test Ip, he fights them. The same kid gets into a scuffle with a rival school, Ip fights the entire school. There's significantly more than ten of them, too.
Ip's hypocrisy is to the movie's credit. Who wants to see a kung fu movie about a guy who refuses to fight? Not me, especially not when that movie stars Donnie Yen, a great martial artist and naturally gifted actor. Ip Man doesn't just beat the crap out of people, he beats the crap out of people in style. Every move is done with grace and a personal flourish. He makes it all look so easy, and his enthusiasm is infectious. While he's fighting, Yen's much more likely to crack a smile than break a sweat.
His character sounds like a super hero — bitten by a radioactive ip or something — but no, he's a historical figure best known for popularizing Wing Chun kung fu in China and for teaching Bruce Lee how to fight. "Ip Man 2" is a sequel to 2008's "Ip Man," though you don't need to have seen the original to understand what's going on (I hadn't and I could anyway).
Ip comes to Hong Kong looking to establish a new Wing Chun school but butts up against the cabal of established kung fu clubs, who don't look kindly on any competition. That conflict leads directly to the film's best sequence, where Ip fights all the local masters in rapid succession atop a wobbly table. If he can beat them all without falling off, he'll earn the right to operate as a licensed martial arts instructor. This bravura setpiece culminates in an instant classic movie fight between Yen and Sammo Hung (also the film's action director) playing Master Hung, man's man and leader of the cabal. Their brawl's one of those kung fu movie holy grails where every element gels into perfect kinetic bliss: great choreography, good camerawork, clear editing, and real emotional stakes thanks to two great actors playing two compelling characters.
That table fight about an hour into the picture is where "Ip Man 2" hits its visceral and emotional peak. To that point, it's been a story about mortality, the value of education and, yes, beating the crap out of people. From that point on, the focus then shifts to a much less satisfying "Rocky IV" riff, with a couple of truly racist Brits playing the role of Ivan Drago and the evil Soviets. I enjoy watching pompous white dudes get their comeuppance as much as the next guy but the maniacally evil British boxer Twister (Darren Shahlavi) and his compatriots are cartoonish buffoons. Ip's battle with them has none of the pathos of his genuinely emotional war with Hung.
Still, Yen's in top form and the fights and stunts throughout are stellar. And, despite what Ip claims is his personal philosophy, there's an awful lot of them.