"Holy Robin Exclamation Montage, Batman!"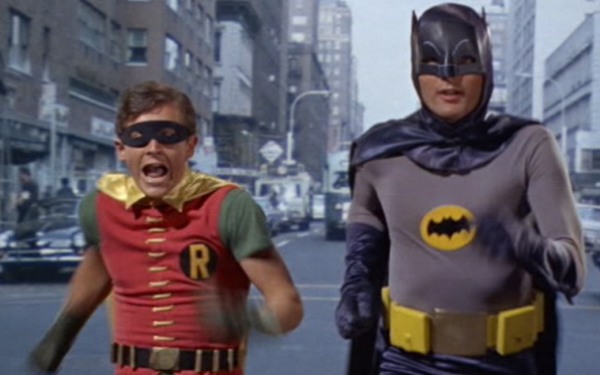 Posted by Matt Singer on
I was watching "The Green Hornet" episodes on YouTube as research for this week's press screening of Michel Gondry's big screen update, and you know how that goes: you're watching something on YouTube, something on the right rail catches your eye, you click it, something on the next rail catches your eye, and on and on. Two hours later your "research" is still sitting on your desktop unviewed while you've plowed through eighteen cat videos and a collection of Jean-Claude Van Damme spin kicks. Unfettered access to entertainment is a dangerous thing, people.
But at least in the midst of all that time wasting I found something really entertaining: a video, compiled by YouTube user IndependantBioHazard of an assortment of the strangest "Holy!" exclamations uttered by Burt "Robin" Ward on the 1960s "Batman" series.
Yes, it's sort of cute, and definitely a little funny, to hear Ward spout these ridiculous lines (and certainly "Holy contributing to the delinquency of minors!" has to be the most ridiculous of the bunch). But arrayed in sequence like this, these lines begin to take on a sadder dimension. Imagine having this job. Having to say these same lines, week after week, as you pound your fist into your open palm, or tighten your glove, while standing around in your underwear. It must have maddening.
Maybe it's just me, but I don't look at this and see camp. I see a long form tragedy played out week after week, same Bat-Time, same Bat-Channel. Holy soul death, readers.