Hey Now! Andy Dick Takes On "The Larry Sanders Show"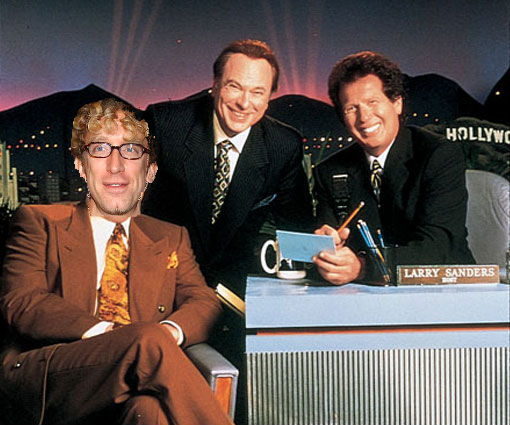 Posted by Melissa Locker on
The Ben Stiller Show premieres tomorrow night on IFC at 10:30 p.m. ET. The comedy show featured Ben Stiller in sketches that skewered everything from television shows to Tom Cruise to Bono to commercials. The series won an Emmy® Award for Outstanding Individual Achievement in Writing in a Variety or Music Program. Writers on the series included Stiller, Judd Apatow, Bob Odenkirk and David Cross, among others. It aired on FOX from September 1992 to January 1993.
As most people not currently living under rocks are aware, Ben Stiller has gone on to become a huge movie star. If you are living under a rock, trust us on this. His current film "Little Fockers" made as much money as the GDP of Uruguay during its first weekend at the box office. But before he was a Focker, he was a comic who stopped by many of our favorite shows, including cameos on Freaks and Geeks and Undeclared. When The Ben Stiller Show went off the air, the other stars of the show, including Janeane Garofalo and Bob Odenkirk, moved on to roles at The Larry Sanders Show. Who didn't make the transition? Andy Dick. Comedy Death Ray's Scott Aukerman talked to him about his feelings about this:
Watch more of Scott Aukerman's interviews here and read our interview with Scott Aukerman here.
The Ben Stiller Show premieres on IFC Wednesday at 10:30 p.m. ET