Harvey Weinstein Considers PG-13 Cut of "The King's Speech"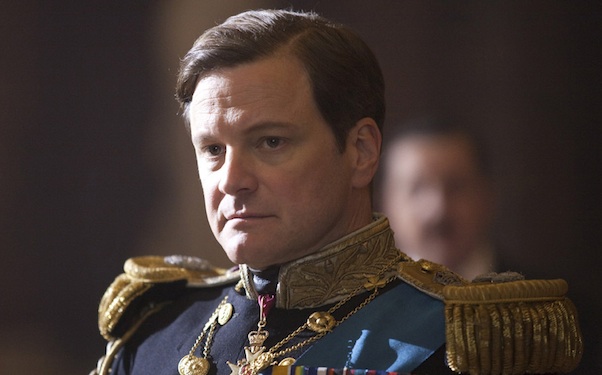 Posted by Matt Singer on
As King George VI might say in one of his profanity-laden stuttering rants, his movie's about to get buggered. The Los Angeles Times reports that Harvey Weinstein is considering recutting "The King's Speech"after the Academy Awards in order to get it a PG-13 rating:
"[He wants to re-edit] the movie to excise coarse language and secure a lower rating that will open "The King's Speech" to a broader audience. Weinstein, whose New York-based studio The Weinstein Co. released the film, said he is talking with director Tom Hooper about trimming the profanity that earned the film an R rating in order to attain a PG-13 or even PG. He is eyeing the success of the movie in Great Britain, where a 12-and-over rating has helped it to top the box office chart for the last three weekends, beating such bigger-budget pictures as "Gulliver's Travels" and "The Green Hornet."

"The British numbers are huge because the rating lets families see the movie together," said Weinstein. "Tom and I are trying to find a unique way to do this that keeps his vision of the movie."

Hooper could not be reached for comment."
Let's get this out of the way first: "The King's Speech"'s R rating for, as the MPAA puts it, "some language" was ludicrous to begin with. A couple of jags of naughty words aimed at no one in particular with zero sexual implication or malice don't constitute, in my mind, grounds to preclude younger viewers. They can hear any of these words on the Internet in the amount of time it takes them to type them into Google. If you ask me, "The King's Speech" should have been rated PG-13 all along.
A lot of movies trim their content for lower ratings and wider audiences. But most of them do it before they've been released. They submit a cut to the MPAA, they receive a conditional rating and then they either accept it, cut their movie, or appeal. The only recent example I can recall of a movie being recut after it's already been released is Mel Gibson's "The Passion of the Christ," which made $370 million in the U.S. with an R rating but just $500,000 one year later as "The Passion Recut." Part of the problem? Gibson's softer "Passion," which removed about five minutes of violence, was still too tough for a PG-13 rating, so he released it unrated, a decision that comes with its own set of financial problems.
I've got no beef with The Weinsteins cutting their own movie (Tom Hooper might, but I don't). It's their movie, they can do what they want with it. But it is funny to note that just one month ago, the Weinsteins were waging a fierce battle with the MPAA over another film in an attempt not to cut something. They successfully appealed "Blue Valentine"'s NC-17 rating down to an R without having to make any changes to the film's sexual content. If they're not pleased with "The King's Speech"'s $60 million, they must be really pissed about "Blue Valentine"'s $4.5 million. Can a oral sex free "Blue Valentine" be far behind?
There's one big hole in TWC's logic, too. Weinstein says the British grosses for the movie are so high because the film has a lower rating that "lets families see the movie together." And I'm sure that England's 12 rating has helped in that regard. But "The King's Speech"'s R-rating doesn't prevent parents from taking their kids to see it; it certainly didn't prevent parents from taking their kids to see "The Passion of the Christ." He's not considering another alternative: that British audiences are more interested in "The King's Speech" because it's about their king and their own history. In the same way that British audiences are probably less inclined to care about a film about a specifically American subject — a great politician, baseball, Snooki — American audiences are probably less inclined to care about a specifically British subject, namely a stuttering king.
I say this as a fan of "The King's Speech." I enjoyed the movie. But the biggest difference between an R and a PG-13 is that kids can go see it on their own. And I have a hard time imagining any kid that isn't a mega-nerdlinger wanting to see "The King's Speech." "Dude, forget 'The Mechanic' this weekend! The guy from 'Bridget Jones' drops the F-bomb! We'll tell my mom we're going to see 'The Green Hornet' and sneak in!"
Crazy, right? That idea's completely buggered.