For Their Consideration: Greta Gerwig in "Greenberg"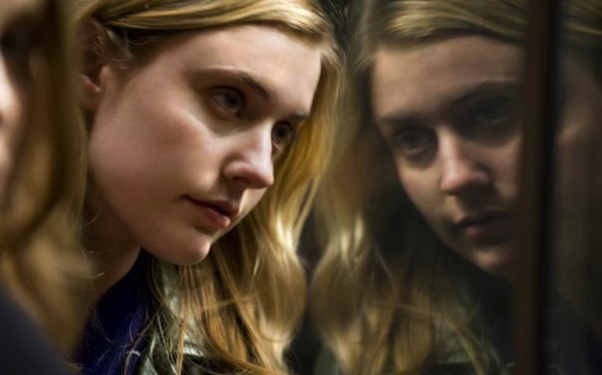 Posted by Matt Singer on
Throughout awards season, IFC.com will highlight Oscar dark horses that aren't getting the recognition they deserve for their work. For the full "For Their Consideration" archive go here.
Before we meet "Greenberg"'s title character, we meet Florence. A young woman in mismatched dress and cardigan sweater, we watch her walk a dog through the Hollywood Hills. Then she's driving as her car stereo plays Steve Miller's "Jet Airliner." She wants to change lanes; the car behind her won't budge. To no one in particular, Florence speaks the first lines of the movie. "Are you gonna let me in?"
Hard to hear Florence say those words and not think about the woman playing her, twenty-seven-year old actress Greta Gerwig. As one of the key members of the so-called mumblecore movement in indie film, Gerwig has garnered small-scale attention and acclaim in films like "Hannah Takes the Stairs," Baghead," and "Nights and Weekends." But attention and acclaim don't necessarily translate to a career in the broader world of film, especially since mumblecore detractors tend to believe there's no acting (or writing, or directing, or art) involved in those movies at all. As a fan of her work, particularly her raw performance in "Nights and Weekends," I always thought she deserved a chance to showcase her skills on a bigger stage. But the question remained: was someone going to let her in?
Writer/director Noah Baumbach did, and Gerwig responded with one hell of a performance, one worthy of awards that she will almost certainly not receive (Oscar prognostication website InContention currently lists 43 women as contenders in the Academy Awards' Best Supporting Actress category — including Ellen Page for "Inception" — but not Gerwig). This doesn't surprise me. Awards tend to go to people who ACT! in capital letters and exclamation points, with fake noses and thirty extra pounds of ice cream chub. Gerwig belongs to the school of lowercase acting, the kind that is so complete and truthful that it can sometimes be hard to spot.
Florence meets Roger Greenberg, played by Ben Stiller, through his brother. She works for him as a personal assistant. The brother and his family go on a vacation; Roger, fresh from a stint in a mental hospital, flies out from New York to dog and housesit. Their proximity sparks a very unorthodox romance, unorthodox even by the standards of quirky indie romantic comedies. Gerwig's task is not an easy one: she has to convince us that Florence would be legitimately and persistently interested in an older man with no prospects and no manners, who needs constant emotional maintenance and frequently badgers her. Making her job even more difficult, once Greenberg appears eight minutes into the film he totally dominates it, leaving very little room for Florence or screentime for Gerwig.
That imbalance, though, suits the relationship. Florence is such a pushover she'd rather beg a friend for $40 than pester her boss for the money he owes her. The bullying, overbearing Roger, in contrast, refuses to let any injustice stand, no matter how small or insignificant it may be. The ever-crusading Roger writes letters to companies whose policies upset him; he sends one to American Airlines about the quality of the buttons on the armrests. You get the feeling watching Florence she wouldn't even complain if someone sat on her seat on an airplane while she was still in it.
Somehow Gerwig makes Florence seem vulnerable without feeling like a victim. Baumbach and Jennifer Jason Leigh's screenplay staunchly refuses to make sense of this screwy relationship or to spell out the source of the attraction, so it's up to Gerwig's performance to make it work. We wonder what she sees in this asshole until we watch the way she lights up when she hugs Greenberg or he agrees to spend the night at her house and we realize: these two are kindred spirits. One lost soul has found another.
Florence doesn't share a lot of personal characteristics with Gerwig's mumblecore characters, but Gerwig's performance does bear the same hallmarks that made her earlier work memorable: her total lack of vanity and her uncannily naturalism. In mumblecore, those qualities were her greatest onscreen strengths and her biggest offscreen weaknesses with critics: it never looked like Gerwig was acting, therefore, she must not be. And Gerwig is completely at ease in front of the camera, whether she's enduring an cringe-inducingly uncomfortable sex scene with Ben Stiller or drinking away her pain while singing along to Paul McCartney's ""Uncle Albert/Admiral Halsey." She doesn't have onscreen tics or crutches and she doesn't need big speeches or breakdowns to convey big emotions. It's all right there on her face. But just because it looks easy doesn't mean it is.
"Greenberg" is ultimately about Stiller's character, but every time I watch it, I'm drawn to Gerwig's, the girl carrying all these emotions that she can't find the words to express and barely has the strength to hold back. The whole movie really is summed up in Florence's first line. It's about pleasure we get from watching Roger and Florence learn to let each other in.