Filmmaker Wants Credit For "Exit Through the Gift Shop"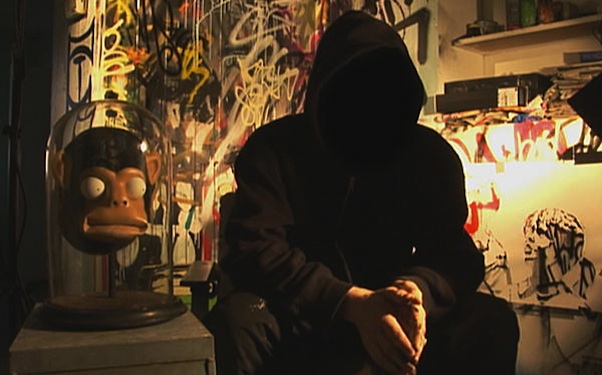 Posted by Matt Singer on
We know you have questions about Banksy's amazing street art documentary "Exit Through the Gift Shop." We still have them too. Foremost among them: just what is the reality of Thierry Guetta, a.k.a. the street artist known as Mr. Brainwash. As "Gift Shop" tells it, Guetta was an obsessive videographer who stumbled into the unofficial role of cameraman to the street art stars. After documenting graffiti artists like Banksy and Shepard Fairey for years, he had hundreds of hours of footage lying around his house and absolutely no plans to use them. Banksy convinced Guetta to get off his ass and make a film; the result was a disastrous mind-numbing collage called "Life Remote Control." So Banksy, determined to put Guetta's footage to good use, convinced the documentarian to give him the footage to do with as he pleased. And to keep Guetta off his back, Banksy encouraged him to become a street artist himself. And thus Mr. Brainwash was born.
But are those events true or just the version of things Banksy wants us to believe? Maybe Mr. Brainwash is an idiot savant who's won over an unsuspecting art world; maybe he's a Banksy creation specifically designed to expose the art world for the dumb, shallow thing that it is. With a prankster like Banksy it's tough to tell, though the artist and filmmaker recently insisted that the whole film is "100% true" in an interview with AJ Schnack.
I guess this latest "Gift Shop" controversy, first reported last night by the New York Times, lends some credence to his claims. Filmmaker Joachim Levy says that he worked with Guetta as a producer and editor on "Life Remote Control," but was unfairly left out of the credits of "Exit Through the Gift Shop."
"'I feel it was — how do you say? — if you write a 200-page book, and someone takes 50 pages of your book and just puts it somewhere else, and they don't even credit you, they don't even ask your permission,' he said. Not only did Banksy ignore his existence, he said, he took his footage out of context."
Banksy's camp issued a statement claiming it's the first they've heard of Levy and they're looking into it. But what may ultimately be more interesting than this tiff over credit is the concrete information about the film's production which could come to light as a result. For instance, the Times piece reveals one heretofore undiscovered nugget: that Banksy "licensed" the "Life Remote Control" footage from Guetta, which certainly suggest some sort of business relationship between the two men.
It's also interesting to hear Levy's take on whether or not Mr. Brainwash is legit and independent artist or a living prank by Banksy. He told the Times, "I know what he did with Thierry. He turned him into a living art piece. It's not a hoax, definitely not." Unless of course Levy himself has been hired by Bansky to prop up "Gift Shop"'s image as a real documentary. Which just raises more questions…