Elia Suleiman's "Time" to Shine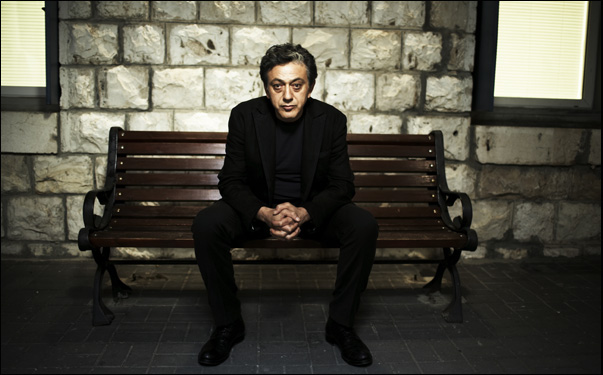 Posted by Bilge Ebiri on
Don't call Elia Suleiman a Palestinian filmmaker. "It's a kind of ghettoization, frankly," says the 50-year-old Nazareth-born director, and he has a point. True, his name often heads lists of filmmakers working in the Middle East — Suleiman's last two features have both premiered at Cannes to wide acclaim — but his work also displays a universality and accessibility that reaches beyond politics or questions of identity. His films manage an irresistible — and somewhat paradoxical — blend of Jarmuschian irony, Tatiesque slapstick, and occasional bits of documentary, while also working with deeply emotional, almost romantic undercurrents.
The films have never been particularly political, even though they often tackle potentially explosive topics: 2002's much-admired "Divine Intervention" climaxed with an Israeli checkpoint being blown to bits, "Matrix"-style. (It was a comedy, believe it or not.) Suleiman's third feature, "The Time That Remains," is certainly his most ambitious yet, examining the effect of the creation of Israel on the lives of one family – the director's own – through his characteristically wry, deadpan style. I recently spoke with the director about the difficulties of making a historical epic, his frustration with questions of identity, and whether his three features could be considered a trilogy.
This seems like a very personal film for you, telling in part the story of your family in Palestine over the decades. And it's been regarded as part of a trilogy. When did you first decide that you would make this film?
You know, everybody asks about this trilogy aspect of the films. I never said that. I do not think of cinema as trilogies or "duologies" or whatever comes with a "-gy." I think sometimes there's a closure, so maybe people feel like the film brings some kind of finality to the other two films. But I don't know, for example, that my next film isn't going to feel like a continuation of this film. I'm against the idea of planning ahead this sort of context. You do that if someone commissions you to do a work and says, "The narrative has to do such and such a thing at such and such a place." And then it becomes a sketch of some kind. I've done a few of those, like the four-minute films I did for Cannes. But not in the actual films I make. It's difficult to say that you planned to make three films, because then suddenly that becomes a context that's imposed on the film, and there's no room left for the poetic.
But you do have a very distinctive style, and these films do explore certain themes. So maybe there's a particular uniformity on a superficial level? And then, when you make another film, they'll say, "Oh, now he's just repeating himself."
Exactly! When the producers read my scripts, they always say, "Oh, this is just like the other one." This happened to me. When I did "Divine Intervention," they said, "Oh, it's just like 'Chronicle of a Disappearance' all over again." Then I made it, and they saw that it's not the same thing all over again. It's connected, of course, because this is also a personal story, this is also semi-autobiographical, this is sincerely the way I feel my images. So, I guess I should add that there are some intentional connections.
In "Chronicle of a Disappearance," I filmed in my parents' house, and I placed a camera pointing towards the kitchen, where my mother sits. In "Time That Remains," I intentionally shot in the same place, from the same angle. Because I wanted to talk about the passage of time and the aging of my mother. So that was very connected. And people who come and look and write about a film have an absolute right to write what they want about the film. So I'm not in a position to say, "No." And I guess it's flattering, too, because it means people are seeing the films and creating a context for them.
One thing that all of these films do display is your remarkable sense of location – your impressive ability to work within a physical space, whether it's a room or a house or a street. You have a unique way of moving actors. You discussed your parents' house. When you plan a film, are you precise in what you're looking for? Do you think of a space and find it? Or do you just show up and work things out on set?
Most of the time, when I write in my notebooks, there's a place that I note. When I come to write the script, that place becomes imaginary. And so when I'm writing the scene, I write it with precise description. In my script, I'll talk about screen direction, very precise movements, etc. Then what I do is when I go to scout a location, I go to the exact same places as a departure point. I go to that space, and I sit down by myself for quite a while, just to feel the space. Even if it's absolutely familiar. Even when it's my parents' home, which is where I grew up.
How do you know when you've found the right space?
You look for the place that comes to dialogue with you, in that moment. You find the poetic space, where the imaginary is actually playing, and you're being sincere to yourself. Then you feel that this is the place you're going to shoot. Sometimes, however, the walls are in your way, the place is smaller, you're not going to be able to push in the camera, etc. And then you have to find or create an alternative space. What I try to do most of the time is manage with what I have.
This is how I choose my locations. I go and I live in them. Even with my cinematographer, when he comes to the set, we go and we hang out there, and we talk about things – things that maybe don't even have anything to do with the scene, or the movie. That makes you sense whether this is the right space to shoot the movie. But many of my locations have been alternative locations, because you're not given permission, or because there's a lot of traffic, or whatever.
Plus, you're making films in Palestine, which I imagine is a place that's constantly changing.
And you know what? This is actually a huge headache for production, because sometimes I'll pick a location where trucks cannot enter, or where it's impossible to have 50 crew people, and so production-wise, it becomes difficult. But I always find this challenge is worthwhile because you come closer to something. Otherwise, you'll find yourself looking for something that's just easy and open and convenient, and ultimately doesn't feel true to yourself.