"Dogtooth," "Enter the Void" and a Week of DVDs on the Edge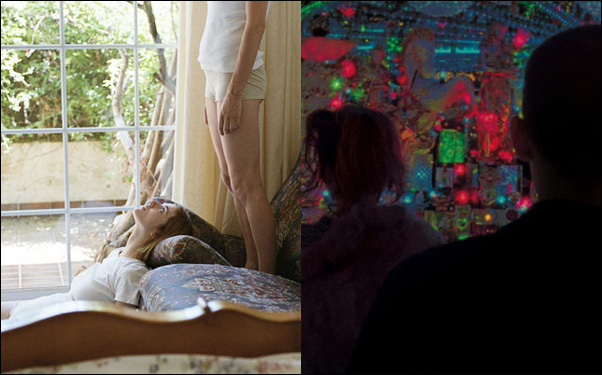 Posted by Stephen Saito on
"Dogtooth" (2009)
Directed by Giorgos Lanthimos
Released by Kino
"Enter the Void" (2010)
Directed by Gaspar Noé
Released by MPI Home Video
Somehow it's fitting that two of last year's most dangerous films will be hitting DVD shelves the same week, both being favorites of the IFC.com staff. "Dogtooth," Lanthimos' much-debated Un Certain Regard winner from Cannes, concerns the lives of three culturally isolated children — two daughters and a son, who range from mid-teens to early 20s — fenced in by their parents' country home, who receive a reeducation when their lone connection to the outside world, a female security guard for their parents' business, introduces them to the joys of sex and Sylvester Stallone films. Meanwhile, "Irreversible" provocateur Noé's latest is a wildly ambitious 155-minute extravaganza set inside the mind of a drug dealer told from the first-person perspective. Nathaniel Brown and "Boardwalk Empire" star Paz de la Huerta play siblings torn apart after their parents died in a car accident who reunite in Tokyo just before Brown's drug dealer is shot and left to observe his sister from above. (Alison Willmore's review of "Dogtooth" and Aaron Hillis' interview with Noé can be found here.)
"Aaron Bacon: Troubled Youth Collection" (2010)
Directed by Nick Gaglia, Jonathan Heap, Kether Donohue, and Charlie Vaughn
Released by Vanguard Cinema
"Avatar" supporting player Joel David Moore and "Firefly" fave Alan Tudyk make appearances in this collection of dramatic shorts including Nick Gaglia's "Aaron Bacon," Jonathan Heap's "Bedridden," Kether Donohue's "The Babydaddy," and Charlie Vaughn's musical coming out tale "Flight to Sinai." Also available on VOD.
"Alligator" (1979)
Directed by Sergio Martino
Released by Mya Communication
Barbara Bach and Mel Ferrer are just two of the tourists who make the unfortunate booking at a resort in Africa where a flesh-hungry crocodile, thought to be the reincarnation of an angry island god, is eating the guests in this exploitation flick made in the wake of "Jaws."
"Eclipse Series 25: Basil Dearden's London Underground" (1959-1962)
Directed by Basil Dearden
Released by Criterion Collection
The 25th entry in the Criterion Eclipse Series offers a spotlight to the oft-overlooked British director Basil Dearden with four of the films he made after exiting Ealing Studios to make the crime thrillers "Sapphire" and "The League of Gentlemen," in addition to the landmark gay drama "Victim" with Dirk Bogarde and the jazz-infused "All Night Long."
"The Bird Can't Fly" (2008)
Directed by Threes Anna
Released by Vanguard Cinema
Barbara Hershey plays a woman who almost literally can't return to her desert home for her daughter's funeral since it has been deluged by sand, but finds a reason to stay with the discovery of a grandson she hadn't known about previously in this 2008 drama from Dutch director Threes Anna. Also available on VOD.
"Broadcast News" (1987)
Directed by James L. Brooks
Released by Criterion Collection
Although there are few films even his most diehard fans can agree upon, Brooks' one consensus masterpiece after moving from being a legendary executive producer on TV shows like "The Mary Tyler Moore Show" and "Taxi" to film is this comedy set inside the high-pressure world of network news where a producer (Holly Hunter) is caught between a witless, attractive anchor (William Hurt) and an experienced, albeit sweaty reporter (Albert Brooks). The new Criterion reissue includes a documentary on Brooks' career thus far, an alternate ending and deleted scenes, an audio commentary with Brooks and editor Richard Marks and more.
"Client 9: The Rise and Fall of Eliot Spitzer" (2010)
Directed by Alex Gibney
Released by Magnolia Home Entertainment
Prolific documentarian Alex Gibney reunites with "Enron" author Peter Elkind to chronicle Eliot Spitzer's fall from grace as part of a prostitution ring. But that's only one facet of this portrait of the former New York governor, which is equally interested in probing the cutthroat political scene that Spitzer largely rose above as the state's attorney general, only to reap the consequences of ignoring it when his name was discovered on a madam's list of johns. (My review and interview with Alex Gibney are here.)
"Crippled Masters 2: Two Crippled Heroes" (1980)
Directed by Shia Yue
Released by Apprehensive Films
"Crippled Masters 3: Fighting Life" (1981)
Directed by Wang Chung Kwong
Released by Apprehensive Films
The legless Jackie Conn and the armless Frankie Shum continued one of the most unusual (and some would say exploitative) martial arts series around, though only one is a true follow-up to 1979's original "Crippled Masters" where the Taiwanese twosome team up to make up for each other's disabilities and battle local corruption. There's less action in "Crippled Masters 3," where Conn and Shum play completely different characters as brothers who try to fit into a community where they're looked down upon.
"Dead Space 2: Aftermath" (2011)
Directed by Mike Disa
Released by Anchor Bay Entertainment
A spinoff of the EA video game series, this anime feature carries on where the sci-fi game left off.
"Everything Strange and New" (2010)
Directed by Frazer Bradshaw
Released by IndiePix Films
Recently nominated for a Spirit Award for Best First Feature, Frazer Bradshaw's drama centers on a carpenter who has become disillusioned by his life and ponders what to do to change it one long-take at a time.
"Feed the Fish" (2010)
Directed by Michael Matzdorff
Released by Strand Releasing
Also suffering from a mid-life crisis, Tony Shalhoub's author of children's books decides to literally take a plunge in this comedy when he joins a group of daredevils who jump into Lake Michigan in the dead of winter. "The League" and "The Freebie" star Katie Aselton lends him support.
"Final Spawn" (2011)
Directed by Fabrice Lambot
Released by Platinum Disc
How do you chase a serial killer that may or may not be human? "Flags of Our Fathers" star James Horan finds out in this sci-fi tinged thriller about a cop who must conquer his own problems before solving a series of murders, though he has the help of a local pimp (Lance Henriksen).
"The Girl Who Kicked the Hornets' Nest" (2009)
Directed by Daniel Alfredson
Released by Music Box Films
The third and final installment in the first film adaptation of the Millennium Trilogy sees a Mohawk-donning Noomi Rapace reprise her role as the punk computer hacker Lisbeth Salander who is holed up in a hospital in critical condition as she awaits trial for three murders while journalist Mikael Blomkvist (Michael Nyqvist) tries to make a case for her innocence.
"House of Bones" (2010)
Directed by Jeffrey Scott Lando
Released by Millennium Media Services
Corin Nemec and Charisma Carpenter star as seekers of the paranormal in this thriller where a TV crew's tour of a haunted house turns into murder spree.
"Inhale" (2010)
Directed by Baltasar Kormákur
Released by MPI Home Video
After the director bounced back from his little-seen English-language debut, the Julia Stiles-Jeremy Renner drama "A Little Trip to Heaven," with the much-awarded 2006 thriller "Jar City," Kormákur is back in the States with this thriller about a district attorney (Dermot Mulroney) and his wife (Diane Kruger) who are forced to come to terms with their ethics when faced with finding a lung donor for their young daughter and discovering the most viable solution may be turning to a surgeon who performs illegal transplants in Mexico. (My interview with Mulroney about the film's strange journey to the screen is here.)
"Inspector Bellamy" (2010)
Directed by Claude Chabrol
Released by MPI Home Video
While Chabrol's 50th film is cause for celebration, it is also a bittersweet occasion since the director known outside of France as the country's answer to Alfred Hitchcock sadly passed away last year. However, the French master of suspense was able to check one thing off his bucket list by working with another icon in Gérard Depardieu for the first time in his final thriller about a police commander whose idyllic vacation away from the city with his wife (Marie Bunel) is rudely interrupted by a man (Jacques Gamblin) accused of insurance fraud who wants to clear his name, as well as Bellamy's bothersome half-brother (Clovis Cornillac).
"Land of Confusion" (2011)
Directed by Jeremy Zerechak
Released by Virgil Films and Entertainment
Jeremy Zerechak's documentary follows a squadron of the Pennsylvanian National Guard as they become soldiers policing the streets of Baghdad.
"Like Dandelion Dust" (2009)
Directed by Jon Gunn
Released by Fox Home Entertainment
Mira Sorvino and Barry Pepper star in this adaptation of Karen Kingsbury's novel about the fight over an adopted child (Maxwell Perry Cotton) between the parents he's come to know and the ones that gave him up and hope to restart their lives after a history of abuse and alcoholism.