David Lynch's Latest Surprise Ending and a Truce on DVD Chapter Stops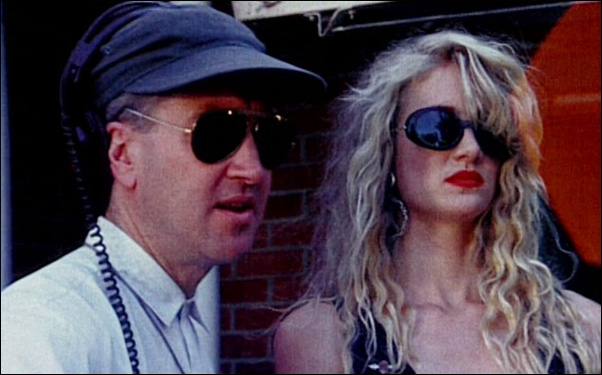 Posted by Stephen Saito on
Even if you're not in Los Angeles, you may have heard about "Scott Pilgrim Vs. the World" director Edgar Wright's "The Wright Stuff II" series happening at the New Beverly Cinema this week and if not, there have been some truly wonderful pieces about what's been going on, whether it's been Sergio Leone and the Infield Fly Rule's Dennis Cozzalio's breathless coverage of every evening of double bills Wright has shown, New Bev doyenne Julia Marchese's touching tribute to the repertory theater that has come full circle with Wright's second round of programming, or Damon Houx and Peter Avellino's reappraisals of "American Graffiti" and "Dirty Harry," respectively, after watching them with a packed house and the tremendous lineup of guests Wright has pulled together on a nightly basis.
Quentin Tarantino appeared positively giddy in explaining the connection between "Dirty Harry" to the Tea Party, Steven Spielberg took the time to send an e-mail to introduce "Duel," and Walter Hill looked so flabbergasted to see such a big audience for "The Driver" (which he joked was most people in the U.S. that had ever seen the film) that it's no wonder he's returning to do a rare Q & A for "The Warriors" later this week. Toss in the fact that Warner Archive announced shortly after an ultra-rare screening of the idiosyncratic and undeniably fun 1974 policier "Super Cops" that it would release the film on DVD for the first time and I'd say it's been a pretty incredible week.
Yet even Wright didn't completely know what was in store for his screening of "Wild at Heart," David Lynch's trippy love story with Nicolas Cage and Laura Dern as lovers on the lam. Wright had invited producer Steve Golin, which was enough to satisfy the die-hard cinephiles in the audience who knew him as the architect of Anonymous Content and Propaganda Films, but even without that, he charmed everyone with stories of Lynch's good luck rituals before a film like checking license plates in a parking lot for his initials and how he had a lunch meeting with Lynch where moments after he said he wanted Nicolas Cage for the part of bad boy Sailor Ripley, Cage walked into the restaurant they were eating at. However, when Wright welcomed Dern to the stage as a surprise guest after the film ended, little did he know that the actress had a surprise guest of her own.
The moment David Lynch stepped out in front of the New Beverly crowd, he received a nearly-endless standing ovation and while he and Dern ultimately didn't speak much about the film at hand, they certainly brought down the house. Dern spoke a lot about her family connections to the film, sharing two funny anecdotes: one about Cage freaking her out a little before shooting a scene by saying, "That's your mother in there," expressing a slight bit of disbelief that she would be acting against her real-life mom Diane Ladd, and another involving her late grandmother, who went to premiere of "Wild at Heart," which courted an X rating at the time for its violence and featuring Dern in various states of undress, and patted Lynch on the shoulder after to tell him he made a great film.
For his part, Lynch wanted to commend Tarantino, who unfortunately wasn't in the crowd, for helping to save the New Beverly from destruction a few years back and eventually dropped a few tidbits for fans when the audience got to ask a few questions. On the subject of the "lost" "Blue Velvet" footage that's been recently uncovered, he recounted the same story he told to KCRW about discovering the missing outtakes in Seattle, but if there was news on the home video front, it was Lynch's announcement that from now on, he'll be including chapter stops on the DVDs and Blu-rays of his films, a reversal from his previous stance. As Lynch said, he wants audiences to watch a film the whole way through a first time, but recognizes the importance of going back to observe particular scenes after an initial viewing. Also, no one should hold out hope for a sequel to "Eraserhead" after the passing of its star Jack Nance, though Lynch said, "I would love to go back to that world."
Not surprisingly, Wright put it best the morning after on Twitter by writing, "Was too starstruck to note that when David Lynch appeared from the curtain as a surprise last night, it was like The Wizard Of Oz joined us," a reference that could apply either to "Wild at Heart"'s recurring "Oz" motif or the fact he left an entire crowd spellbound on what turned out to be a magical evening.
UPDATE: "ReverendBeastly" uploaded video of the event on YouTube. The clip is here: