Celebrating the Proud Tradition of Comedy Saddams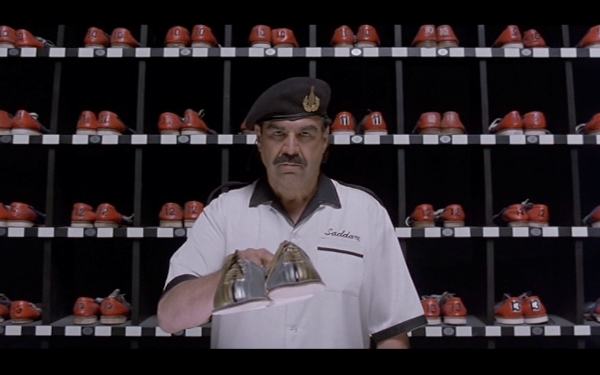 Posted by Matt Singer on
Deadline reported yesterday that "Borat" creator Sacha Baron Cohen is set to star in "The Dictator," a comedy hased on the novel "Zabibah and The King" by Saddam Hussein. According to the press release from Paramount Pictures — who will release "The Dictator" on May 11, 2012, the film "tells the heroic story of a dictator who risked his life to ensure that democracy would never come to the country he so lovingly oppressed." The film will be directed by Larry Charles, who also directed Cohen's "Borat" and "Bruno" movies.
It sounds like a clever pairing of talent and subject matter, but when Cohen straps on that familiar beret and mustache, he won't be the first guy to play Saddam Hussein for laughs onscreen. For my money, we've already had a definitive comic Saddam. That's actor Jerry Haleva, who played Hussein in several '90s comedies, most notably as the big bad in Jerry Abrahams' "Hot Shots: Part Deux." If you're unfamiliar with Haleva's inspired shamelessness in the role, here's a clip:
Haleva's services were in high demand throughout the '90s: he'd already played Saddam, briefly, in the first "Hot Shots" and he'd play him again, briefly, in the famous dream sequence from "The Big Lebowski."
Haleva's Hussein was a sweetly innocent punchline; with his lisp and bad fencing skills he posed no threat whatsoever. But "South Park" creators Trey Parker and Matt Stone seized on Saddam's potential as a true fiend, still silly but now in league with Satan himself (who's really a much nicer guy than Saddam, actually). In the "South Park" movie "Bigger, Longer, and Uncut," they made Hussein into the bobbleheaded embodiment of over-the-top villainy.

The second Gulf War — not to mention the man's death by hanging, maybe the least funny method of execution — has taken a lot of the fun out of mocking Saddam. He's made a few guest appearances on "South Park," but Haleva's IMDb page has been quiet since 2002's HBO miniseries "Live From Baghdad" (apparently he works as a lobbyist now). I'm looking forward to the return of the comedic Saddam in the hands of Cohen. And who knows? Maybe he can find Haleva a cameo as one of the doubles Saddam was rumored to have used during his reign.