Bob Dylan's Six-Book Deal Rumored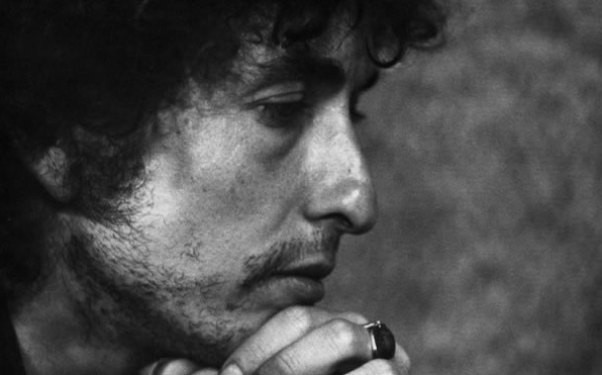 Posted by Brandon Kim on
The first part of Bob Dylan's autobiography, "Chronicles: Volume One" spent a long time on the New York Times non-fiction best seller list in 2004 and fans have since been waiting for more. EW reports that Bob Dylan is returning to writing again, and rumored to have signed a six book deal with Simon & Schuster, his publisher for "Chronicles."
Dylan has yet to confirm the report himself, and he'd have to stop touring for the love of God, but the deal is rumored to include two more volumes of his Chronicles memoirs, and a book based on his XM satellite radio show, "Theme Time Radio Hour." The subjects of the three remaining books are unknown.
Read this masterful excerpt from "Chronicles: Volume One," courtesy of NPR from a piece that included an interview with Dylan from the time of it's release in '04.
Lou introduced me to Jack Dempsey, the great boxer. Jack shook his fist at me.

"You look too light for a heavyweight kid, you'll have to put on a few pounds. You're gonna have to dress a little finer, look a little sharper — not that you'll need much in the way of clothes when you're in the ring — don't be afraid of hitting somebody too hard."

"He's not a boxer, Jack, he's a songwriter and we'll be publishing his songs."

"Oh, yeah, well I hope to hear 'em some of these days. Good luck to you, kid."

Outside the wind was blowing, straggling cloud wisps, snow whirling in the red lanterned streets, city types scuffling around, bundled up — salesmen in rabbit fur earmuffs hawking gimmicks, chestnut vendors, steam rising out of manholes.

None of it seemed important. I had just signed a contract with Leeds Music giving it the right to publish my songs, not that there was any great deal to hammer out. I hadn't written much yet. Lou had advanced me a hundred dollars against future royalties to sign the paper and that was fine with me.

John Hammond, who had brought me to Columbia Records, had taken me over to see Lou, asked him to look after me. Hammond had only heard two of my original compositions, but he had a premonition that there would be more.

Back at Lou's office, I opened my guitar case, took the guitar out and began fingering the strings. The room was cluttered — boxes of sheet music stacked up, recording dates of artists posted on bulletin boards, black lacquered discs, acetates with white labels scrambled around, signed photos of entertainers, glossy portraits — Jerry Vale, Al Martino, The Andrews Sisters (Lou was married to one of them), Nat King Cole, Patti Page, The Crew Cuts — a couple of console reel-to-reel tape recorders, big dark brown wooden desk full of hodgepodge. Lou had put a microphone on the desk in front of me and plugged the cord into one of the tape recorders, all the while chomping on a big exotic stogie.