Banksy's Real Identity (Back) Up For Sale On eBay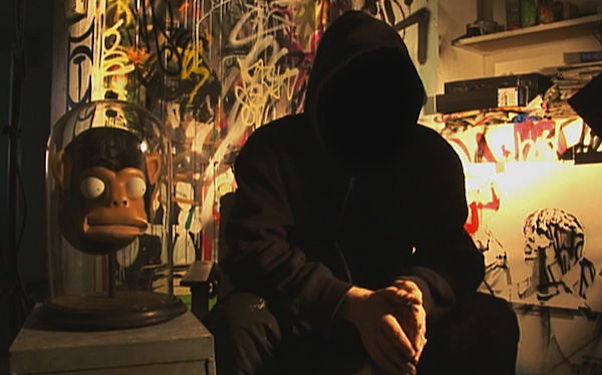 Posted by Matt Singer on
UPDATE — 1/14/2011: The item is back up on eBay. The seller claims the previous auction was removed because he was not selling something "tangible." So now instead of winning Banksy's identity, you'll get a piece of paper containing Banksy's identity written on it. Better hurry — bidding's already up to $5,000. The auction ends Wednesday night.
UPDATE: The listing has now been removed. Obviously there's a lesson here: eBay will simply not allow you to sell something with free shipping. Or maybe this guy was just full of crap. Or maybe he had the truth, but Banksy quickly paid him off to shut his mouth.
As spotted by Boing Boing, someone has put up an auction on eBay entitled: "The Identity of 'Banksy.'" Banksy, of course, is the anonymous street artist prankster-genius who also directed last year's fantastic graffiti documentary "Exit Through the Gift Shop." Thus far, no one has learned his true name (in the film, Banksy appears in shadows with his voice electronically scrambled). But this eBay item claims:
"If you win this auction I will reveal to you the true identity of 'Banksy.'

I have uncovered his identity by matching up the prices of his sold pieces to corresponding tax records. I will reveal no more details.

The winner of this auction is the only person that I will ever share this information with. I will simply tell you his name. I cannot offer anything more.

I give you 100% assurance that it is most certainly the full name of the street artist known as 'Banksy'.
I'm not tax record expert, but how do we know the guy depositing these checks is, in fact, Banksy? Seems like the guy's gone to this much trouble to protect his identity for so long, he probably would have thought of something like this. Then again maybe not.
The starting bit is $3,000 — no bids so far as of my writing this at 6:30 pm on Tuesday — but if you've got the scratch you can "Buy it Now" for $25,000. Best of all, free shipping! What a deal. Tonight the streets could be yours.