Banksy Takes the Top Prize at the Cinema Eye Documentary Honors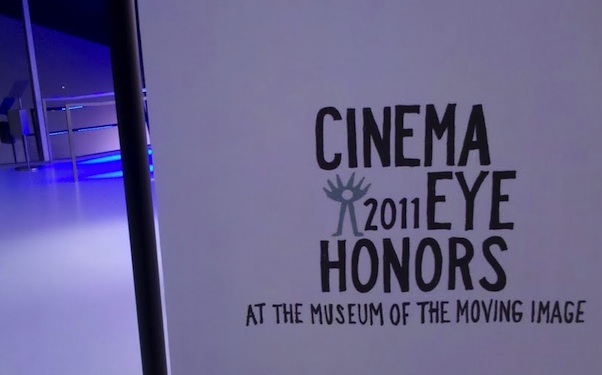 Posted by Matt Singer on
Last night's fourth annual Cinema Eye Honors, the awards show dedicated entirely to documentary excellence, belonged to street artist Banksy. His film "Exit Through the Gift Shop" took home two awards including the film's top prize for Outstanding Achievement in Nonfiction Feature Filmmaking and the man himself delivered the acceptance speech of the night. Well, not quite the man himself, since Banksy was a no show (obviously, since nobody outside of one random seller on eBay). But "Gift Shop" producer Jaimie D'Cruz, accepting the award on Banksy's behalf, read some words the man himself had prepared. And they were fantastic. After some pleasantries, D'Cruz got down to business. I had my tape recorder rolling. Here was Banksy's speech:
"Now's not the time for long, rambling speeches. I'll leave that for the director of 'Waiting for Superman.'

I'd like to thank the Cinema Eye awards. It's great to be recognized by people who are so obsessed with the documentary genre — in other words people who are even more socially retarded than myself.

I guess some of you may be getting a bit suspicious about me. How can you know that this award is real? But I'd like to categorically assure you that this evening's awards are not being staged by actors for a parody I'm making about film awards.

I'd like to thank anyone who worked on the movie. Almost all of them did a great job. And I'd like to dedicate this award to anyone out there who's ever looked at the state of this world and though: 'I can't just stand idly by and watch this happen. I need to get it on tape.' Thank you and have a good evening."
The other big winner of the night was "Last Train Home," Lixin Fan's documentary about one Chinese couple traveling to their family home to celebrate the New Year. It won three awards — the most of any film — for best production, cinematography, and international feature (i.e. best foreign documentary). Here's the full list of Cinema Eye winners. You can find out more about the show at CinemaEyeHonors.com.
Outstanding Achievement in Nonfiction Feature Filmmaking: "Exit Through the Gift Shop"
Outstanding Achievement in Direction: Laura Poitras, "The Oath"
Outstanding Achievement in Production: Mila Aung-Thwin and Daniel Cross, "Last Train Home"
Outstanding Achievement in Editing: Chris King and Tom Fulford, "Exit Through the Gift Shop"
Outstanding Achievement in Cinematography: Lixin Fan, "Last Train Home"
Outstanding Achievement in Original Music Score: Norbert Möslang, "The Sound of Insects: Record of a Mummy"
Outstanding Achievement in Graphic Design and Animation: Juan Cardarelli and Alex Tyson, "Gasland"
Outstanding Achievement in an International Feature: "Last Train Home"
Outstanding Achievement in a Debut Feature Film: "Marwencol"
Outstanding Achievement in Nonfiction Short Filmmaking: "The Poodle Trainer"
Audience Choice Prize: "Joan Rivers: A Piece of Work"
Legacy Award: "Grey Gardens"
Spotlight Award: "The Autobiography of Nicolae Ceaucascu"
Heterodox Award: "Putty Hill"