Arnold Schwarzenegger Probably Sticking With Politics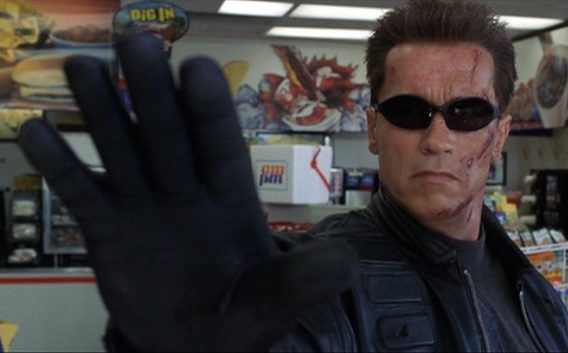 Posted by Matt Singer on
Entertainment Weekly reports that former California Governor and current unemployed actor Arnold Schwarzenegger is not planning a return to filmmaking. This according to Ivan Reitman, who directed Schwarzenegger in the 1990s comedies "Twins" and "Junior." Okay, so he directed in the 1990s comedy "Twins" and the 1990s …something… "Junior." Here's what Reitman told EW:
"I had a lovely talk with him about a month ago, and my guess is he will continue in government work…he's joked around about coming back to acting, but I think really he would like to do something serious."
And by serious Reitman meant helping to solve our country's energy crisis, not appearing in "Red Heat: Port of Call New Orleans." Which is a loss for all of us. If Hollywood is going to remake his best movies, why can't he in star in them? If Schwarzenegger's longtime rival Sylvester Stallone can revive his career on the cusp of collecting Social Security by pretending he's not getting old, why can't he do the same? Now that doesn't mean he should start pumping up for "Terminator 5: Port of Call Cyberdine Systems." But that doesn't mean his last significant role be in Jackie Chan's woeful "Around the World in 80 Days" either. That just can't be.
I'm sure returning to acting is a massive comedown from being in charge of the eighth largest economy in the world. I would understand if he said he needs a few years to decompress and perhaps to pursue further opportunities in politics. But just as John Wayne got to make "The Shootist," we need Schwarzenegger to make one more action film. He needs that career capper, the summation of everything he did and stood for (and hopefully has at least one shot of him decapitating a guy while quipping "I told you not to lose your head!").
It has to happen. C'mon, man. You promised.