Arizona Assassin Identified With "Bodies" Song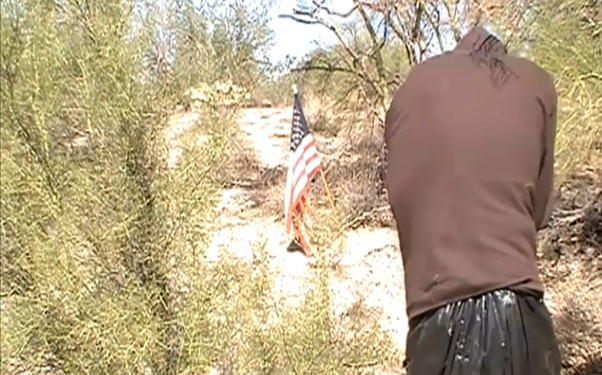 Posted by Brandon Kim on
The song "Bodies" by Dallas hard rockers, Drowning Pool, already has an infamous reputation. It has long been known to be a favorite of US troops, often played just before heading into a combat zone by the younger soldiers, much to the discomfort of those who believe that playing it glorifies the grislier, if often necessary aspects of military service — killing people.
The song has surfaced in a video called "America: Your Last Memory In A Terrorist Country!" allegedly posted by Jared Lee Loughner, the mentally disturbed Arizona shooter who killed six people and horribly wounded Rep. Gabrielle Giffords in Tuscson over the weekend. In the video, an American flag sits planted in the parched ground amid arid Arizona flora, and the mind numbingly repetitive song starts up. Let the bodies hit the floor, Let the bodies hit the floor, Let the bodies hit the floor… Then a figure wearing a brown hoodie and garbage bag pants creeps into frame, eventually lighting the flag on fire. The tasteless video is punctuated by nonsensical chat bubbles, one of which says "I only have my right arm," though the figure is clearly concealing a left arm inside the neo-monk/leper costume.
THR reports that the band was "devastated" to learn that their controversial single was once again associated with a murderer. In 2003, the song also served as the soundtrack to a double murder in which a 19 year-old killed his parents with a shotgun while listening to it on his headphones.
"'Bodies' was written about the brotherhood of the mosh pit and the respect people have for each other in the pit," the band explained in a statement, explaining they do not advocate violence. "If you push others down, you have to pick them back up. It was never about violence. It's about a certain amount of respect and a code."
It's right proper of them to denounce the association of their music with so many horrible acts. And it's great that they say the song is about a brotherly code, but the lyrics don't really bear that out. Along with the simplistic repetition of the lines previously mentioned, the lyrics consist of the repeating lines, "Nothing wrong with me," and "Something's got to give."
There isn't much else to the three-minute-plus song other than "Skin against skin blood and bone / You're all by yourself but you're not alone / You wanted in now you're here/ Driven by hate consumed by fear."
I could poop in a bag, leave it on my best friend's door step with a message reading poop back and forth forever, and claim it's about brotherhood too. Still, blaming the "Bodies" or Drowning Pool for influencing this Loughner psycho to kill anyone is uncalled for. Though a conversation about why these kinds of people are attracted to a song like this is worth having, and maybe we should take a look at why there are so many mindlessly bad hard rock acts in our culture too.