And the 2011 Razzies Nominees Are…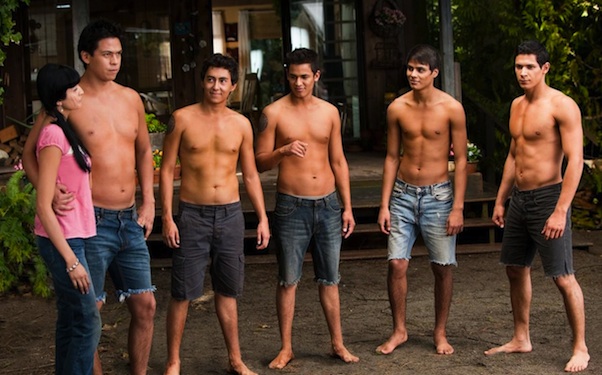 Posted by Matt Singer on
Thirty-one years on, the Golden Rasberry Awards — a.k.a. the Razzies, the infamous awards for the worst movies of the year — remain a shockingly ramshackle operation. Their website looks like it's from CompuServe circia 1995, and their official nominations announcements is rife with typos (unless they called "Sex and the City 2" "Sex & The City #2" just to throw in a sideways this-movie-is-shit joke, which, given the Razzies' sense of humor, is entirely possible).
This remains part of the Razzies' charm and a secret to their endurance. They've positioned themselves Hollywood's bullshit detector; if they'd sold out to corporate sponsors that "We're just passionate movie lovers, defending what we love" angle would be a lot tougher to maintain. And it lets them have some fun with their awards, too. Nobody else would give a Worst Screen Couple nomination for the wretched "Jonah Hex" to "Josh Brolin's Face and Megan Fox's Accent." They deserve it, too.
If there's one problem with the Razzies it's this: they tend to pile on media punching bags regardless of their merit (or lack of merit, I guess). You see that this year with all the nominations for "The Twilight Saga: Eclipse," a film that's boring, certainly, but not nearly as much of a trainwreck as the aforementioned "Jonah Hex." Similarly, in the rush to give the admittedly putrid "The Last Airbender" as many nominations as possible, they've thrown it in the Worst Prequel, Remake, Rip-Off or Sequel category. But "Airbender," based on an animated series, is none of those things. Basically they just do whatever the heck they want.
(Is it weird that I'd like more purity in awards for bad movies? It's weird, right? I'm sorry. I take bad movies very seriously.)
Anyway, here's the full list of nominees, with the aforementioned "Eclipse" and "Airbender" leading all films with nine nominations each. The losers will be announced at a ceremony on Saturday, February 26, one day before the Academy Awards.
Worst Picture
"The Bounty Hunter"
"The Last Airbender"
"Sex and the City 2"
"The Twilight Saga: Eclipse"
"Vampires Suck"
Worst Actor
Jack Black, "Gulliver's Travels"
Gerard Butler, "The Bounty Hunter"
Ashton Kutcher, "Killers" and "Valentine's Day"
Taylor Lautner, "The Twilight Saga: Eclipse" and "Valentine's Day
Robert Pattinson, "Remember Me" and "The Twilight Saga: Eclipse"
Worst Actress
Jennifer Aniston, "The Bounty Hunter" and "The Switch"
Miley Cyrus, "The Last Song"
Sarah Jessica Parker, Kim Cattrall, Kristin Davis, Cynthia Nixon, "Sex and the City 2"
Megan Fox, "Jonah Hex"
Kristen Stewart, "The Twilight Saga: Eclipse"
Worst Supporting Actor
Billy Ray Cyrus, "The Spy Next Door"
George Lopez, "Marmaduke," "The Spy Next Door" and "Valentine's Day"
Dev Patel, "The Last Airbender"
Jackson Rathbone, "The Last Airbender" and "The Twilight Saga: Eclipse"
Rob Schneider, "Grown Ups"
Worst Supporting Actress
Jessica Alba, "The Killer Inside Me," "Little Fockers," "Machete" and "Valentine's Day"
Cher, "Burlesque"
Liza Minnelli, "Sex and the City 2"
Nicola Peltz, "The Last Airbender"
Barbra Streisand, "Little Fockers"
Worst Eye-Gouging Mis-Use of 3D
"Cats & Dogs 2: Revenge of Kitty Galore"
"Clash of the Titans"
"The Last Airbender"
"The Nutcracker in 3-D"
"Saw 3D"
Worst Screen Couple or Ensemble
Jennifer Aniston and Gerard Butler, "The Bounty Hunter"
Josh Brolin's Face and Megan Fox's Accent, "Jonah Hex"
The Entire Cast of "The Last Airbender"
The Entire Cast of "Sex and the City 2"
The Entire Cast of "The Twilight Saga: Eclipse"
Worst Director
Jason Friedberg and Aaron Seltzer, "Vampires Suck"
Michael Patrick King, "Sex and the City 2"
M. Night Shyamalan, "The Last Airbender"
David Slade, "The Twilight Saga: Eclipse"
Sylvester Stallone, "The Expendables"
Worst Screenplay
M. Night Shyamalan, "The Last Airbender"
John Hamburg and Larry Stuckey, "Little Fockers"
Michael Patrick King, "Sex and the City 2"
Melissa Rosenberg, "Twilight Saga: Eclipse"
Jason Friedberg and Aaron Seltzer, "Vampires Suck"
Worst Prequel, Remake, Rip-Off or Sequel
"Clash Of The Titans"
"The Last Airbender"
"Sex and the City 2"
"The Twilight Saga: Eclipse"
"Vampires Suck"