And Now, the 2011 WGA Award Nominees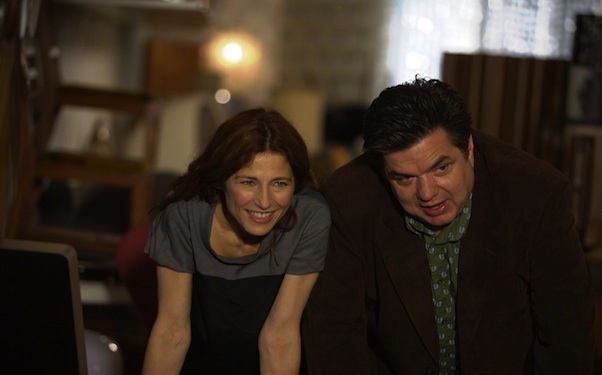 Posted by Matt Singer on
Yesterday the producers, today the writers. Tomorrow, presumably, the caterers and grips (my sources tell me the duck confit on the "Clash of the Titans" set was on point). Yes, the Writers Guild of America have announced their picks for finest movies of 2010. And writers must have a unique perspective on cinematic excellence, right? A better or at least different knowledge of what makes a script and a film great? No, they pretty much like all the same movies we do. And the nominees are:
Original Screenplay
"Black Swan"
Screenplay by Mark Heyman and Andres Heinz and John McLaughlin
Story by Andres Heinz
"The Fighter"
Screenplay by Scott Silver and Paul Tamasy & Eric Johnson
Story by Keith Dorrington & Paul Tamasy & Eric Johnson
"Inception"
Written by Christopher Nolan
"The Kids Are All Right"
Written by Lisa Cholodenko & Stuart Blumberg
"Please Give"
Written by Nicole Holofcener
Adapted Screenplay
"127 Hours"
Screenplay by Danny Boyle & Simon Beaufoy
Based on the book "Between a Rock and a Hard Place" by Aron Ralston
"I Love You Phillip Morris"
Written by John Requa & Glenn Ficarra
Based on the book by Steven McVicker
"The Social Network"
Screenplay by Aaron Sorkin
Based on the book "The Accidental Billionaires" by Ben Mezrich
"The Town"
Screenplay by Peter Craig and Ben Affleck & Aaron Stockard
Based on the novel "Prince of Thieves" by Chuck Hogan
"True Grit"
Screenplay by Joel Coen & Ethan Coen
Based on the novel by Charles Portis
Documentary Screenplay
"Enemies of the People"
Written, Directed, Filmed and Produced by Rob Lemkin and Thet Sambath
"Freedom Riders"
Written, Produced and Directed by Stanley Nelson
"Gasland"
Written and Directed by Josh Fox
"Inside Job"
Produced, Written and Directed by Charles Ferguson
Co-written by Chad Beck, Adam Bolt
"The Two Escobars"
Written by Michael Zimbalist, Jeff Zimbalist
"Who Is Harry Nilsson (And Why Is Everybody Talkin' About Him)?"
Written and Directed by John Scheinfeld
Before you ask the WGA considers docs for the Documentary Screenplay Award if they feature an onscreen writing credit (they also need to be exhibited theatrically in New York or LA for one week). Regarding the list of films as a whole, I suppose there are a few surprises (including "I Love You Phillip Morris" by Requa and Ficarra) and it is interesting to note that seven out of the ten fiction film nominees came from writers who were also directors. But you didn't need a crystal ball to predict most of these movies.
People arbitrarily decide whether it was a "good year for movies" or a "bad year for movies." 2010 had the "bad year" tag for a while. But then so many good films came out in the four months that I've started arguing the opposite. At this point, the repetition and boredom of this awards season is making me rethink that position. There can only be this much consensus about the best movies of the year if there aren't a lot of really good movies to pick between. Sure "The Social Network" and "Black Swan" were great (they made my top ten list, after all). But it seems like everyone loves these movies. The fun of awards season is the debate: "Saving Private Ryan" versus "Shakespeare in Love," "Avatar" versus "The Hurt Locker." And that's something that's sorely lacking this year so far. I hope the Caterers and Grips Nominees stir some up. Winners for the WGA Awards will be announced Saturday, February 5 at simultaneous ceremonies in New York and Los Angeles.