Adrien Brody Settles Dispute Over Dario Argento Film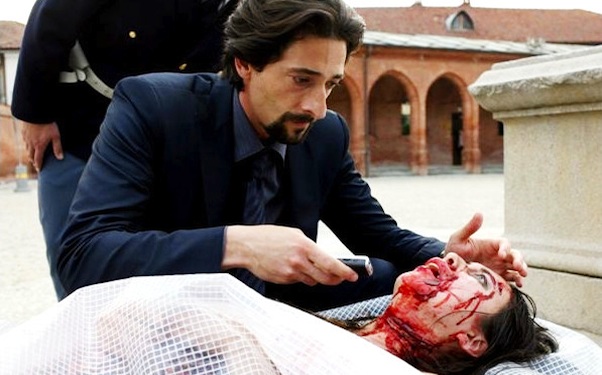 Posted by Matt Singer on
At last our long, international nightmare is over and another, more cinematic nightmare can begin. Adrien Brody has been suing the producers of "Giallo," the horror film he made with "Suspiria" director Dario Argento since last October. As outlined in this Cinematical report, Brody was demanding payment for the $640,000 he claimed he was never paid for his work on the film.
Last November, a judge ruled in Brody's favor, stating that work on "Giallo" could no proceed until the actor was compensated. And though no terms were detailed, the press released sent out earlier today says that the parties have resolved their differences and are ready to release their film through distributor Maya Entertainment. In a statement, Brody said "I very much enjoyed the process of making "Giallo," and I am happy that things have been resolved and that people can now enjoy seeing the film."
So after all of this legal wrangling, just what is that film about? According to Wikipedia:
"The film, set in Turin, Italy, follows French flight attendant Linda and Italian-American detective Enzo Avolfi, who team up to find Linda's younger sister Celine. Celine, a model, has been abducted by a serial killer. Known only as "Yellow" (giallo in Italian), he kidnaps beautiful foreign women in his unlicensed taxi cab. After drugging them, the killer proceeds to mutilate and finally murder them. He photographs his deeds, so that the photos may grant him personal sexual gratification."
Delightful. And what an appropriately bloody ending for a testy Hollywood lawsuit.