A Visual Guide to Pitchfork's 2010 Album Reviews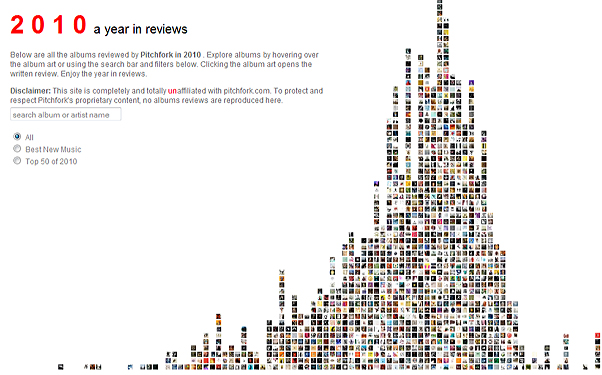 Posted by Brandon Kim on
If paging through album reviews is a favorite pastime of yours, you'll love this visual guide to the past year's worth of Pitchfork's that was painstakingly compiled into a fun-to-mouseover graphic. And if you despise reading album reviews, then you may find this to be a nice way of absorbing them anyway.
The Pitchfork obsessed Year in Reviews depicts all of the indie site's 2010 album reviews across an interactive chart showing the album's place between a rating of 1 and 10. The lowest is the horridly titled, "Codename: Rondo" by Ghostland Observatory at 1.5, and the highest is, of course, Kanye West's "My Beautiful Dark Twisted Fantasy" at a rare 10, joining the likes of Radiohead's fabled "Kid A" in the top spot. The AV Club notes that it's actually the first 10 given out since since Wilco's "Yankee Hotel Foxtrot" in 2002.
A glance shows an upper end heavily populated by re-releases and trips to the vaults betraying the staff's nostalgic tendencies — which with I can identify. Bowie's "Station to Station," Springsteen's "The Darkness on the Edge of Town," along with reissues or compilations by Serge Gainsbourg & Jane Birkin, Elliot Smtih, NIN, Galaxie 500, Miles Davis…. There are a few other albums up at 10 along with Kanye's, again all comps or reissues, from The Rolling Stones' "Exile on Main St." to The Cure's "Disintegration" to Pavement's "Quarantine the Past." [AV Club]
The chart makes it all the better to peruse the humorous pans for crap like Jaguar Love's
"Hologram Jams" at the low end too.