A Good Reason to Be "Bitter" This New Year and More New DVDs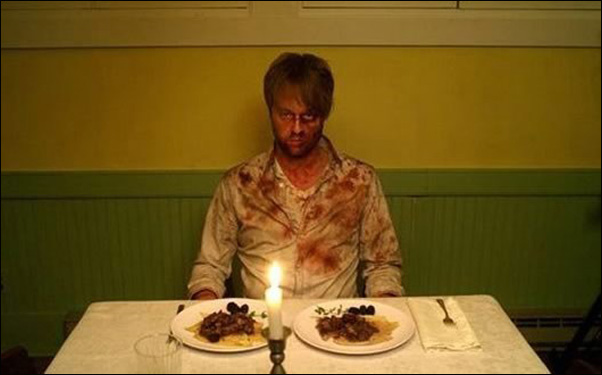 Posted by Stephen Saito on
A look at what's new on DVD today:
"Bitter Feast"
Directed by Joe Maggio
Released by MPI Home Video
When a food critic ("Humpday"'s Justin Leonard) takes a butcher knife to the restaurant of a celebrity chef (James LeGros), the chef plots the ultimate revenge in this gory satirical thriller from director Joe Maggio. (My review from the Los Angeles Film Festival is here.)
"Case 39"
Directed by Christian Alvart
Released by Paramount
2010 is probably a year best forgotten by Renee Zellweger, who not only appeared in the execrable "My Own Love Song," which went straight to Netflix, but also this thriller that was filmed in 2006, but didn't see a release until last fall. Zellweger stars as a social worker whose latest case involving a child (Jodelle Ferland) that she believes is a victim of abuse leads to something far more terrifying. Bradley Cooper and Ian McShane co-star.
"Catfish"
Directed by Ariel Schulman and Henry Joost
Released by Universal Home Video
The secret may be out, but if you're only catching up to the conversation now, all you need to know about Joost and Schulman's (possibly) nonfiction film is that it's about a man who befriends an eight-year-old girl online and becomes infatuated with her older sister before deciding to meet them both in person. (Alison Willmore's insightful yet spoiler-filled review of the film is here.)
"Celestial Films: The Supreme Swordsman"
Directed by Li Pai-ling
Released by Funimation
After killing his 99 other foes, the second most feared swordsman in China seeks to filet the only one considered better in this 1985 epic from Shaw Brothers' protégé Li Pai-ling in the director's chair.
"Dinner for Schmucks"
Directed by Jay Roach
Released by DreamWorks Video
A remake of French director Francis Veber's "The Dinner Game," Roach's take on this comedy about a corporate climber (Paul Rudd) who is forced by his boss to find the most socially awkward person around (Steve Carell) to invite to a feast where he will be mocked and humiliated relies far more on physical humor than the wordplay of the original, but is worthwhile for the opening sequence of mice dioramas alone.
"The Edge of Dreaming"
Directed by Amy Hardie
Released by Kino Lorber
Director Amy Hardie looks into human subconscious in this documentary that resulted from the death of her horse only hours after dreaming it would occur.
"Fright Flick"
Directed by Israel Luna
Released by Vicious Circle Films
"Ticked Off Trannies With Knives" director Israel Luna keeps the blades out for this campy satire of slasher films where the set of a horror film is stalked by a killer on the loose. From early reports, Luna wasn't shy about spilling blood.
"Gun"
Directed by Jessy Terrero
Released by Image Entertainment
Already at work on the third film together ("Blood Out"), 50 Cent and Val Kilmer are threatening to become this generation's Paul Newman and Robert Redford. As for their second film together, they play a gunrunner and cop respectively who help each other in Detroit when there's a crackdown on arms dealers, though there are enemies neither could anticipate. Annalynne McCord and John Larroquette co-star in "Soul Plane" director Jessy Terrero's thriller.
"Howl"
Directed by Rob Epstein and Jeffrey Friedman
Released by Oscilloscope Laboratories
"The Life and Times of Harvey Milk" documentarians Epstein and Friedman make the leap to narrative features by profiling another San Francisco icon in beat poet Allen Ginsberg during the 1957 obscenity trial that followed the publication of his landmark poem (with a little animation thrown in to illustrate its hallucinatory nature). James Franco stars as Ginsberg with "Mad Men"'s Jon Hamm onhand to defend him in court as Jake Ehrlich.
"The Last Exorcism"
Directed by Daniel Stamm
Released by Lionsgate
The marketing pushed Eli Roth's role as executive producer on this low-budget horror flick to great effect, but it was director Daniel Stamm and writers Andrew Gurland and Huck Botko's dark sense of humor and unflinching depiction of a backwoods family's attempt to exorcise their daughter with the help of a preacher who lost his faith that makes this a welcome addition to canon of demon-chasing flicks. (My review of the film is here.)
"Machete"
Directed by Robert Rodriguez and Ethan Manquis
Released by Fox Home Entertainment
The smart folks at Sony decided to put out Rodriguez's greatest hits — "Desperado"/"El Mariachi" and "Once Upon a Time in Mexico" — on Blu-ray to accompany the director's latest, which puts Danny Trejo's vigilante front and center amongst an all-star cast that includes Robert DeNiro, Jessica Alba, Cheech Marin, Lindsay Lohan, Michelle Rodriguez and Don Johnson.
"Sci-Fi High"
Directed by Daniel Belusci and Steve Dispensa
Released by Midnight Releasing
Correct me if I'm wrong, but I don't believe there's too many other films in the alien invasion/'50s-style musical genre, so this one from Dan Bellusci and Steve Dispensa is a bit of a rarity. It's hard to describe otherwise, but the trailer is here.
"Ticking Clock"
Directed by Ernie Barbarash
Released by Sony Pictures Home Entertainment
Cuba Gooding Jr. stars as a journalist who may be in over his head after he finds his girlfriend's corpse accompanied by a journal that lists the killer's next victims, pitting him in a race against time to protect them. Neal McDonough co-stars.
"Touching Home"
Directed by Logan and Noah Miller
Released by Millennium Media Services
The no-budget making of this drama from Northern California-based brothers Logan and Noah Miller was so riveting it inspired a bestselling book "Either You're In or You're In the Way", so now it has a DVD to sit next to it on the shelf, detailing the Miller brothers' real-life travails after their failed pursuit of minor league baseball careers leads to figuring out what they want to do with their lives as they face the additional challenge of maintaining a relationship with their alcoholic father (Ed Harris).
"Who Loves the Sun?"
Directed by Matt Bissonnette
Released by Osiris Entertainment
Lukas Haas, Molly Parker and Adam Scott star in this dramedy from "Passenger Side" director Matt Bissonnette about the return of a man (Haas) who left town without explanation years earlier only to offer not much of an explanation when he comes back to his wife (Parker) and best friend (Scott).
"Wolvesbayne"
Directed by Griff Furst
Released by Millennium Media Services
One of those delightfully random casts you usually only find on DVD shelves, Jeremy London, Mark Dacascos, "Even Stevens" star Christy Carlson Romano and Yancy Butler appear in this vampires versus werewolves thriller.
"The Yellow Handkerchief"
Directed by Udayan Prasad
Released by Millennium Media Services
"My Son the Fanatic" director Prasad helms this drama about two teens (Kristen Stewart and Eddie Redmayne) who pick up a just-released inmate (William Hurt) and drive through post-Katrina Louisiana contemplating the solitude that has brought them together and the lure of relationships that could set them free.
Oldies But Goodies Resurfacing or Appearing for the First Time on DVD: Jack Lemmon's "Good Neighbor Sam", "The Notorious Landlady", "Phffft!", "Under the Yum Yum Tree"
New to Blu-ray: "Backdraft", "Coraline" (3D Blu-ray), "Ever After", "Hope Floats", "Lost in Translation", "A Walk in the Clouds"