A (Fairly) Complete Sundance 2011 Acquisitions List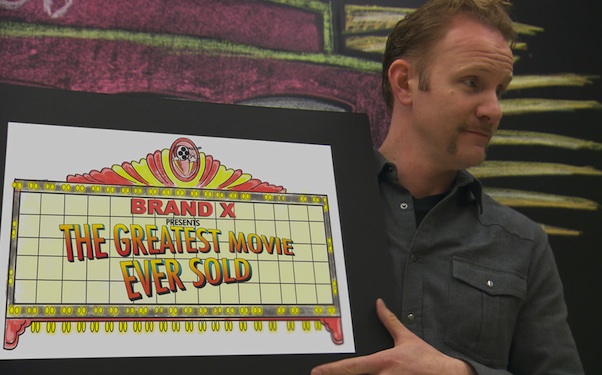 Posted by Matt Singer on
If you're a film lover who can't make it to Park City, Sundance is like the world's biggest tease: a beautiful woman who kisses your neck and whispers in your ear and then vows not to sleep with you for twelve months. There's nothing more frustrating than articles about incredible movies you won't be able to see anytime soon, if at all. The only good news stories out of Sundance are the acquisitions, since they provide hope that, yes, someday we will see these films opening in a theater near us.
With that in mind, I've compiled all the Sundance acquisitions I could find into a single list. I decided to organize them by release date, though most still being determined. As more sales leak out, I'll try to update this as best I can (you can suggest additions to me on Twitter as well). And if you're sick of being teased, it may not be a bad time to note (rather shamelessly, I know) that IFC Films has five Sundance movies available on VOD right now: "Mad Bastards," "Septien," "These Amazing Shadows," "Uncle Kent," and Gregg Araki's awesome new film "Kaboom." Oh, and don't forget that Fox Searchlight had two films at Sundance with firm release dates as well, Miguel Arteta's "Cedar Rapids," opening February 11, and Tom McCarthy's "Win Win," opening March 18.
Here's how the acquisitions list works: the links in the film titles take you that movie's page on Sundance's website, where you can find plot synopses, pictures, and trailers. And the link in the distributor's name sends you to the news story about the acquisition. Enjoy — or, I guess, prepare to enjoy eventually. Best I can do for now.
APRIL
"The Greatest Movie Ever Sold," directed by Morgan Spurlock (Sony Pictures Classics)
LATE SPRING:
"The Ledge," directed by Matthew Chapman (IFC FIlms)
JUNE
Jun. 3: "The Last Mountain," directed by Bill Haney (Dada Films)
OCTOBER
Oct. 19: "Red State," directed by Kevin Smith (SModcast Pictures)
SOME UNDEFINED TIME IN 2011
"The Details," directed by Jacob Aaron Estes (The Weinstein Company)
"Homework," directed by Gavin Wiesen (Fox Searchlight)
"Life in a Day," directed by Kevin Macdonald (National Geographic)
"Margin Call," directed by J.C. Chandor (Lionsgate and Roadside Attractions)
"Martha Marcy May Marlene," directed by Sean Durkin (Fox Searchlight)
"Page One: A Year in the Life of The New York Times," directed by Andrew Rossi (Magnolia and Participant)
RELEASE DATE COMPLETELY TBD
"Another Earth," directed by Mike Cahill (Fox Searchlight)
"Buck," directed by Cindy Meehl (Sundance Selects)
"Circumstance," directed by Maryam Keshavarz (Participant Media)
"The Guard," directed by John Michael McDonagh (Sony Pictures Classics)
"I Melt With You," directed by Mark Pellington (Magnolia)
"Like Crazy," directed by Drake Doremus (Paramount)
"My Idiot Brother," directed by Jesse Peretz (The Weinstein Company)
"Pariah," directed by Dee Rees (Focus Features)
"Perfect Sense," directed by David Mackenzie (IFC Films)
"Project NIM," directed by James Marsh (Roadside Attractions)
"Salvation Boulevard," directed by George Ratliff (IFC and Sony)
"Silent House," directed by Chris Kentis and Laura Lau (Liddell Entertainment)