A Brief Interview With Portlandia's Carrie Brownstein and Fred Armisen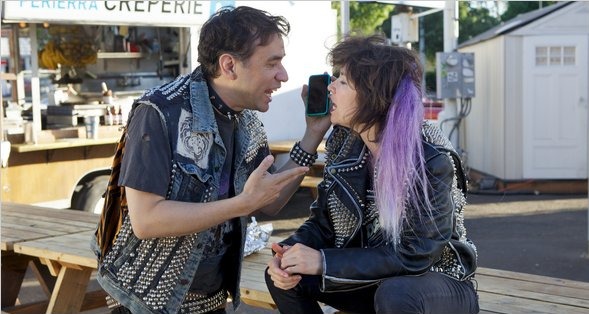 Posted by Melissa Locker on
On Friday night at 10:30 p.m. ET/PT, the much-anticipated IFC original show, Portlandia, premieres. The shows writers, creators, and stars Carrie Brownstein and Fred Armisen, sat down with me for a lightning round of questions about the show.
IFC Now : East Coast or West Coast?
Fred: I'm East Coast.
Carrie: West Coast.
IFC Now : Any chance you're going to start shooting each other up Tupac and Biggie style?
Fred : No, we embrace our differences.
IFC Now : Portlandia has some awesome guest stars. In fact, one star, Steve Buscemi, won a Golden Globe last night for his role in "Boardwalk Empire". What is his role in "Portlandia"?
Fred: He plays a visitor to the feminist bookstore, and when we were looking to cast that part, I knew I wanted a Golden Globe winner and they guaranteed that Steve was going to win. They promised. So when he won, the first thing I thought was, 'This is great!'.
IFC Now : Right, and now "Portlandia" will be his first role after his Golden Globe win.
Fred: We have to put that in the ads for the show. We should rewrite the copy.
Carrie: Kyle [Maclachlan] must have won for something too.
IFC Now : Best Lead Actor in a Drama for "Twin Peaks". So you have two Golden Globe winners on Portlandia. Wow!
Fred: We should hang up and go re-write the press release right now.
IFC Now : Fred, you're not from Portland, did you rely on Carrie to help you know what to …er, skewer or was it pretty self evident?
Fred : Well I don't think we skewer anything. But, I've been there enough to observe things that seemed universal. You eat in the restaurants and go to the feminist bookstores or, rather, bookstore. You see stuff. But I did rely on Carrie to chauffeur me around. I never know what direction we're going. I just sit in the passenger seat and she drives.
IFC Now : Did you have to learn how pronounce Oregon?
Fred : It's Orey-gohne.
IFC Now : What about Couch street? [Pronounced cooch.]
Fred : Wrong, it's couch [cow-ch].
IFC Now : What about Willamette?
Fred : It's actually pronounced ILL-a-met. It's a silent 'W'.
IFC Now : Do you actually own any flannel?
Carrie: I'm actually wearing flannel right now. It's what I wore on the plane and I slept in it. It's how I'm bringing Portland to New York. Through flannel.
Fred: No. I don't own any.
IFC Now : You had the local premiere of the show on Friday (the 14th) at the Hollywood Theater. What's been the response to the show in Portland?
Carrie: The local premiere was a lot of fun. The show was actually a benefit and the first screening sold out in just a few hours. We added a second screening and that sold out too. There's generally been a lot of enthusiasm. People are genuinely interested. For how analytical people in Portland can be, they also have a sense of humor. There's a real spirit of benevolence in Portland.
IFC Now : Carrie, are you worried that creating this show will make you uncomfortable in your adopted home of Portland?
Carrie: I'm not really worried about the local reaction. I've existed in the creative community for years and I think this is just part of the ongoing creative conversation. I mean, I hope. Portlanders are pretty low key about these things. I hope I won't get kicked out of anywhere. So far it's been fine.
IFC Now : I'm from Portland and the thing I keep hearing is that people are worried this show will make people want to move to Portland. What would you say to them?
Carrie: People didn't move to the prairie after "Little House on the Prairie."
Fred People didn't move into the Brady Bunch house
Carrie:People didn't move to "Gilligan's Island" or "Lost." Except it is in Hawaii and everyone wants to live in Hawaii.
Fred: And "Sesame Street" is in New York and lots of people move here, but no one seems to mind.
IFC Now : I have a more personal question: My brother lives on SE Lincoln and really likes Apple products, were you specifically mocking him in the first episode?
Carrie: Yes.
Fred: No, I am making fun of me. But also yes.
IFC Now : Do you think people outside of Portland will get all the jokes in the show?
Carrie: The ideals and philosophy that are in the show, and in Portland, are present in a lot of other cities, whether its Austin or Williamsburg [Brooklyn] or Silver Lake [Los Angeles] or Boulder, Colorado. So a lot of the ideology in the show is present in a lot of states. If a state doesn't have a Portland, there are subsets of the population that are striving to be Portland. Pittsburgh is trying to get on the Portland thing. There may not be entire cities who get it, but there are certain populations that will find the material relatable.
IFC Now: Do you have any art with a bird on it?
Carrie: Yes
Fred: Yes.
Carrie: Who doesn't?
Portlandia premieres on IFC at 10:30 p.m. ET/PT