A Brief Interview With Comedy Death Ray's Scott Aukerman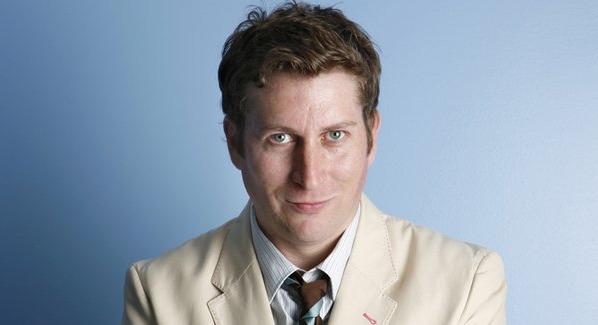 Posted by Melissa Locker on
Photo: Seth Olenick
Tonight on IFC we are starting off the new year with a bang of new programming: The Larry Sanders Show, Mr. Show with Bob and David, and The Ben Stiller Show all premiere on IFC this week. To accompany our exciting new shows we asked Scott Aukerman from LA's famed Comedy Death Ray to host a series of interviews with the stars, producers, and writers behind these great comedies. The interviews will be shown during our new comedy blocks that start tonight when Larry Sanders Show hits the air at 11 p.m. ET. Aukerman graciously allowed us to turn the tables on the notorious interviewer and answered a few of our most nosy questions about Comedy Death Ray, a show he may or may not be working on with Patton Oswalt, and why he wants to kill Robert Redford.
IFC Now: I wanted to start this interview off with an easy question. So Scott, how much money do you make?
Scott Aukerman: When I ask people that question, I press them to give a real answer, but most people either give a real answer that sounds like they're faking or a fake answer. So I'm going to say $600,000 and you can figure out which type of answer that is.
IFC Now: What is the etymology of your catch phrase "What's up, hot dog?"
Scott Aukerman: I was a guest on my friend Jimmy Pardo's "Never Not Funny" podcast and they tape right above a 7-11. I was in there right before the taping and overheard a bizarre very uncomfortable conversation that included the phrase "What's up, hot dog?" I immediately went upstairs and told the entire story and then made it become my catchphrase. But! It's been retired now. I may have a contest to create a new catchphrase.
IFC Now: How do you describe your show Comedy Death Ray to people who haven't made it to L.A. recently or ever?
Scott Aukerman: There are no words. None! First the problem is the English language. We would need something more ancient. Cuneiforms perhaps might suffice. But seriously, have you ever seen stand up comedy? It's one of those.
IFC Now: Who's your favorite Comedy Death Ray character?
Scott Aukerman: Dismissive Jimmy Stewart.
IFC Now: You are the host of a podcast of the same name, Comedy Death Ray Radio. Who have been some of your favorite guests?
Scott Aukerman: It's available on iTunes. As opposed to the regulars who are on the show a lot, both Jon Hamm and Weird Al [Yankovic], as famous as those two people are, they are very willing to do anything.
IFC Now: I understand you are also working on a show with Patton Oswalt?
Scott Aukerman: Yes, it exists. We are writing it right now and Fox will decide if they will make it in about a month. It's funny. It would fall in the category of comedy or maybe drama.
IFC Now: IFC asked you to host a series of interviews with comedians that will air during our new comedy bloc. What can we look forward to in those interviews?
Scott Aukerman: They started out with me getting together with everyone involved in the shows. I originally thought it would be informational, but IFC encouraged me to have fun with the interviews. So I did. For example, I asked Paul F Tompkins three real questions and they never got answered. Ever. There are a bunch of great guests including Judd Apatow, Paul Feig, Janeane Garofalo, [Bob] Odenkirk. Later in the season the interviews and interstitials get even more fun. Other things to look for: In between weeks two and three I will lose 25 pounds.
IFC Now: Wow. What kind of diet was that?
Scott Aukerman: Can't talk about it.
IFC Now: Let's just say the ZZ Top diet then. What was your favorite interview?
Scott Aukerman: All the interviews turned out really well. I think it's because I'm — what do you call it — not a non-com. I worked on one of the shows. I was involved, I know the people. It was an easy interview. People really let down their guard. But, to answer the question: Paul F. Tompkins
IFC Now: Is he right there holding a gun to your head?
Scott Aukerman: Yes.
IFC Now: Paul F. Tompkins it is then. Moving on. Today on Twitter (@IFCdotCom), in relation to the film "The Clearing," we were asking people a very tough question: Fuck/Marry/Kill Robert Redford, Willem Dafoe, Helen Mirren.
Scott Aukerman: Hmm…FMK all of them in reverse order?
IFC Now: Is that legal in California? Also, no. The rules clearly state no.
Scott Aukerman: Well first, you should never use that language in a professional interview it just gives people an excuse not to read your work. Second, Fuck Mirren since she technically has a vagina. Marry= Defoe because he seems like a stoner and seems like a cool laidback dude. Kill Robert Redford but stage it so it looks like he killed himself via autoerotic asphyxiation.
IFC Now: Bold. A follow up question: F/M/K Todd Margaret, Larry Sanders, or Ben Stiller as Tom Cruise?
Scott Aukerman: Well Ben Stiller has been a movie star for a long time and he really takes care of himself and is the most physically appealing. So fuck him. Marry Larry Sanders. Kill Todd Margaret, because David [Cross] insulted me once.
IFC Now: Do you have a favorite sketch from Mr. Show?
Scott Aukerman: As a fan, the banana episode was the most amazing thing I'd ever seen. They took something that was a throw away at the beginning of the episode and then brought it back at the end. It was just amazing. Also, the live sketches they did while they were trying to get the show made — at the Upfront Theater — were amazing. They made me want to write for them.
IFC Now: And you did write for them, right?
Scott Aukerman: Yes, I worked on Mr. Show for the fourth season and the ill-fated movie.
IFC Now: Of Mr. Show, Larry Sanders, Ben Stiller Show, and Action! Which would you rather watch for all eternity?
Scott Aukerman: Action! Definitely. The title implies excitement. Would you rather watch Airport 77 or Airplane! You would watch "Airplane!" because of the exclamation.
IFC Now: So …Comedy Death Ray! then?
Scott Aukerman: Maybe!