Ring in the New Year With Some Very Old Broadcast Journalism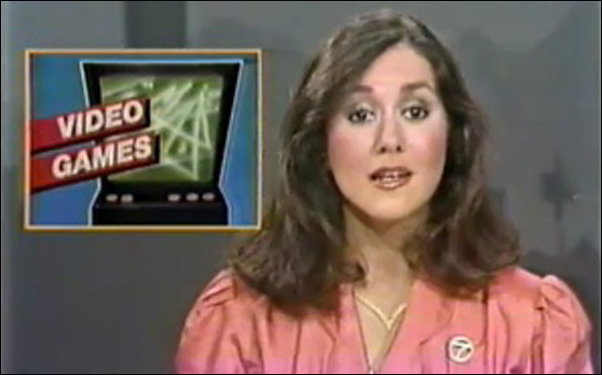 Posted by Neil Drumming on
I was desperately fishing about for an appropriate final post for 2010 when I stumbled upon this lovely bit of nostalgia just posted on YouTube. It's a special report on the growing video game phenomenon which aired sometime in 1982 — nearly thirty freakin' years ago. As spectacularly-coiffed anchorwoman Tawny Little of KABC's Eyewitness News in Los Angeles states with some certainty, "video games are the latest craze to sweep the country and most of the world, too." Indeed, Tawny, indeed.
This crisply-encoded clip bursts with awkwardly-phrased, once-eye-opening factoids like, "one study estimates that we've spent 75,000 man-years doing this," "these games would not be any fun at all if there were no sound," and my personal favorite, "war games are very big right now." The special report endeavors to delve deep into the video game industry and its associated economics, focusing on pioneering old-school producers like Midway and Taito (Obviously, the report mostly addresses arcade machines, not the exceedingly convenient console culture we're used to today.) There's even a segment on that hot new movie about video games, "Tron" — the original "Tron."
Of course, no exposé about video games, now or ever, would be complete without a suitably sensationalistic exploration of the many dangers. I'd rather not give too much away, but about eight minutes into the video, the report zeroes in on that most terrifying pandemic: "Pac Man Wrist." That's nothing compared to the risk of psychological dependence, as expounded upon by psychiatrist and John C. Reilly impersonator Dr. Robert Alpern, who advises that concerned parents should visit arcades to find out exactly what all the fuss is about.
But it's the clip's narrator, investigative journalist and disembodied voice Josh Littman, who delivers the most damning commentary on the growing frenzy over digital entertainment. "Video games, in a sense, are addictive," says Little, "Not like drugs, more like the need to jog." Oh, the horror.
Thanks to YouTuber shertz43 for posting the clip, and Happy New Year, everyone.