"Undeclared" Ep. 13 and 14, "Truth or Dare" / "The Day After"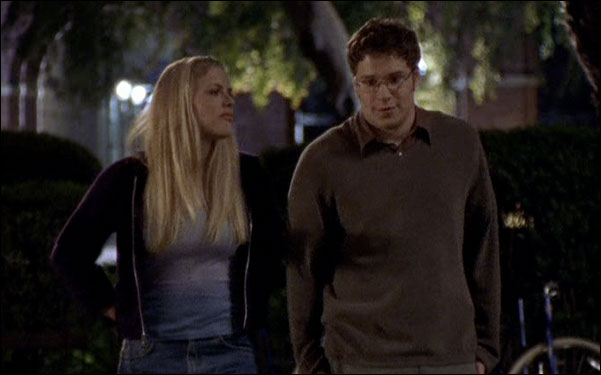 Posted by Matt Singer on
"Undeclared" is now airing on IFC, and we thought we'd take this opportunity to revisit the show that further cemented broadcast television's inability to recognize the genius of Judd Apatow. Every week, Matt Singer and Alison Willmore will be offering their thoughts on two more episodes.
Episode 13
Truth or Dare
Teleplay by Seth Rogen
Story by Judd Apatow
Directed by Greg Mottola
Episode 14
The Day After
Written by Judd Apatow & Seth Rogen
Directed by Judd Apatow
"They could all be the one and you don't know until you sleep with them. All of them!" — Lloyd
Our second two-parter in a row on "Undeclared" really pushes forward the main storyline of the series: the on-and-off-again-then-awkwardly-off-then-kind-of-back-on-then-off-again romance of Steven and Lizzie. With Eric finally and completely out of the picture, Lizzie begins voraciously flirting with Steven, but Lloyd mistakes her wandering around their suit in just a bra and pajama bottoms as a sign that she sees the boys as brothers and not potential sex objects. It takes all of "Truth or Dare" for the, yes, truth to come out, and "The Day After" picks up the next morning, with Steven and Lizzie enjoying their first moments as a new, excessively cutesy couple. Jay Baruchel does a great job playing Steven's palpable excitement at maybe having landed his dream girl, particularly in his endearingly dorky delivery of the line "I just got to call her baby to her face this time!"
But romantic bliss is fleeting in Apatown, as once again Lloyd sticks his nose into Steven's business, warning him that he's headed for disaster if he keeps submitting to Lizzie's every sexual whim. He somehow convinces Steven to play hard to get and then to go to a party without her, ostensibly for the purposes of a "guy's night out." The whole thing blows up Steven's face, and he runs back into Lizzie's arms to the sounds of Ryan Adams' "Gonna Make You Love Me."
You can see the pattern forming. Lloyd, the presumed ladies' man of the group, is actually complete idiot when it comes to women, and his advice about how to act around them is worthless. We've talked about this before. But at this point, Lloyd's suggestions are getting so destructive you have to start to wonder whether he's actually giving Steven bad pointers on purpose to sabotage his relationships. Lloyd's got lots of women but they're just interested in his body. It seems reasonable that for all his razzing of him, he might be jealous of Steven, and the fact that he has a girl who wants to be with him for more than one night.
Judd Apatow, who co-wrote both halves of this two-parter and directed "The Day After," is credited with mainstreaming the "bromantic comedy," where relationships between the male lead and his buddies are way more important than any sexual ones in the film. Writing endearing and credible male friendships is one of Apatow's most heavily praised skills. But "Undeclared"'s portrait of bromance has grown increasingly negative. Steven nearly joined a frat in "Hell Week" because of Ron, Lloyd, and Marshall's relentless teasing; in "The Day After" they nearly wreck his chance to land the girlfriend of dreams, possibly out of jealousy. The guys on "Undeclared" share some good times — see the charming, improvisatory conversation that opens "Truth or Dare" — but they also bicker, tease, backstab, and "crotchblock" (as Ron does when he gets Busy Phillips' Kelly to repeatedly intrude whenever he makes a move on a girl in the party). So what do you think, Alison? Is Lloyd intentionally ruining Steven's relationship? And are you finding "Undeclared"'s anti-bromantic vibe as interesting as I do?
Alison: In Lloyd's defense, he floats around on a totally different plane than the other guys, something "The Day After" makes amusing obvious when it shows his technique with the ladies at the party the group of them attend. It goes something like this: He shows up. The end. There's no question that he has the most experience with the opposite sex of anyone in their suite — Ron only just loses his virginity to his campus tour guide crush Kelly (Busy Philipps, another visiting "Freaks and Geeks" alum) in the space of the night between these two episodes, we've witnessed the entirety of Steven's sexual history and Marshall's so far seemed a hopeless case. So it makes sense that he should try to offer advice, but also that everything he thinks he knows is completely useless to the non-cherubic mortals that are his roommates.
And no, I don't think Lloyd's jealous of Steven or trying to break him and Lizzie up — he seems genuinely happy for the two of them when he sneaks back into the room in the morning. He's also surprisingly benevolent when it comes to trying to get Marshall some play, talking him up and switching places with him so that he's in the center of the action. I don't doubt he means well, it's just what works for him won't work for any of the other three. And while I think you make some interesting points about these two episodes being rather anti-bromantic, Apatow's never been one to portray one's guy friends as always having all the answers or not sometimes holding you back — recall the weird and contradictory advice offered to Andy Stitzer by his coworkers in "The 40-Year-Old Virgin," or, for that matter, the Lloyd-esque advice offered to Nick by Daniel in "Freaks and Geeks," when he advises Nick try to win Lindsay back by cold shouldering her.
I found it interesting that "The Day After" parallels Lloyd and Rachel, the two hot ones, as the major proponents for singledom — because, naturally, singledom is easiest for them. Lloyd hasn't so far felt the desire to date except when goaded into it by Steven because new girls are always throwing themselves at his feet. Rachel doesn't feel the need for a boyfriend because when she offers herself up on the body shot bench guy fight over the chance to lap tequila out of her belly button. Being free and unattached is a lot more attractive when you're, well, attractive. Despite their flirtations with the party scene, Steven and Lizzie are giant softies and ultimately not afraid to admit it — they want the totally codependent relationship you know they're destined for. Ron, on the other hand, might not be so lucky. As sweet as his courtship of Kelly has been (despite getting it on with poor Marshall in the room, a major roommate faux pas), her dismissal of his assumption of monogamy doesn't seem like a good sign.
Matt, while Lloyd may claim to know everything about women, it's Perry (Jarrett Grode) who gets to make out with Rachel in "Truth or Dare." Matt, what do you make of the character and his flirtation by way of confessions of vulnerability and inexperience?