The Twelve Days of Judd Apatow: Day 1 Freaks and Geeks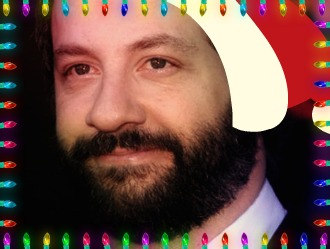 Posted by Melissa Locker on
Who would you rather have come down your chimney: An elderly obese bearded man wearing the pelts of dead animals and …velvet, or America's number one comedy producer Judd Apatow? You don't even need a minute to think about it, because the answer is clear: Judd Apatow, of course. Sure, Santa has a bag full of junk to stuff in your stockings and sugar plums to dance in your head, but really, who wants reindeer prancing on their roof in the middle of the night? And can you imagine the clean up required after having eight reindeer up on the eaves? You know someone named Blixen isn't totally housebroken. Besides, Judd Apatow gives the gift that keeps on giving. By that we mean laughter, not the kind of gift that is cured with a trip to the pharmacy. Judd Apatow knows funny. And we're fans of funny. If we remember anything from our LSAT prep class, it's that if you like funny then logically you must like Judd Apatow, too.
Some of Judd Apatow's new classic comedies like Freaks and Geeks and Undeclared have been in heavy rotation here at IFC. In January, our schedule fills up with even more of Apatow's shows: The Larry Sanders Show and The Ben Stiller Show. To help ring in the new year of great programming we present "The Twelve Days of Judd Apatow", a daily look at the comedies that spring from the mind of Judd Apatow, like Athena but without the headache. Today, a few clips from our favorite episodes of Freaks and Geeks. We Wish You A Merry Judd Apatow!
Here's a fun and wholesome past time:
And just in time for the holidays, The Sober Student Improv Players. Don't drink and drive, kids!
Undeclared airs Fridays at 11 p.m. ET; The Larry Sanders Show premieres on IFC January 3rd at 11 p.m. ET.