The Top Ten Films of 2011 (Or, At Least, Those We Think Will Be Really Really Great)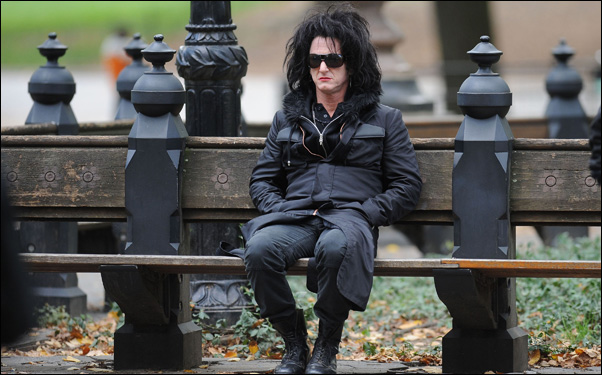 Posted by Anthony Kaufman on
Okay, so it may be a little early to talk about the best films of next year. But based on the number of high-profile auteurs with new works on the horizon, 2011 looks like it will be a banner annum for art cinema. While Terrence Malick's "Tree of Life" is already trailering around the world and Sundance will parade a number of hot new projects from American indie stalwarts (Miguel Arteta, Tom McCarthy) and doc-makers (Eugene Jarecki, Steve James), look abroad to the next Berlin or Cannes and you're likely to see the most thrilling examples of contemporary cinema. Here are ten films we believe could top the best-of lists 12 months from now (in no particular order):
"This Must Be the Place"
Directed by Paolo Sorrentino
Though not yet known much outside of his home country or the festival circuit, Italian auteur Sorrentino received considerable acclaim — including a Cannes Jury Prize and even an Oscar nomination for best makeup — for "Il Divo," his 2008 tale of political corruption. In his follow-up English-language debut, Sean Penn stars as a retired rock star on the search for his father's torturer, an ex-Nazi war criminal who is hiding in the U.S. Frances McDormand also co-stars. What might be the result is anybody's guess, but the pairing of Sorrentino and Penn is reason alone for great anticipation.
"The Dangerous Method"
Directed by David Cronenberg
The last time Cronenberg tackled the medical profession, we got the eerily creepy "Dead Ringers." The idea that the Canadian maestro is now taking on the birth of psychoanalysis should send shivers down your cerebellum. Based on a play by Christopher Hampton called "The Talking Cure," the film stars Viggo Mortensen as Sigmund Freud (he never looked that good), Michael Fassbender as Carl Jung and Keira Knightley as Sabina Spielrein, a patient of Jung's who was also a huge influence on both their theories. A sort of ménage-a-trois of the mind, the "Method" has all the components of a wonderfully disturbing psychological thriller.
"The Grandmasters"
Directed by Wong Kar-wai
Hong Kong master Wong Kar-wai's latest follows the life of Ip Man, the legendary martial artist who taught Bruce Lee in his younger years. Like all of Wong's projects, there is little else known about the plot, but Tony Leung ("In the Mood for Love") stars as the kung fu expert, alongside Zhang Ziyi ("Crouching Tiger, Hidden Dragon"), South Korean starlet Song Hye-kyo, and Chang Chen ("Red Cliff"). At a news conference for the film, Leung called the project "a genuine kung fu movie." And with veteran action choreography Yuen Woo Ping ("Kung Fu Hustle," "The Matrix") on board, there's no reason not to believe him. Sales company Wild Bunch has little other info about the film, except a tagline: "In martial arts, there is no right or wrong, only the last man standing" — which I'm sure has as much to do with the actual film as "Melancholia" has a happy ending; see below.
"Melancholia"
Directed by Lars von Trier
Described as a "psychological disaster movie," the Danish provocateur's new film stars Kirsten Dunst, the latest ingénue to subject herself to the filmmakers' whims. At a press conference for the film in July, Dunst praised von Trier's sadistic tendencies, reportedly saying there's "poetry in the way he tortures women." While the actual plot is under wraps, Dunst's character gets married within the film (with Udo Kier as "the wedding planner"), as impending disaster comes in the shape of a planet hurdling towards Earth. Charlotte Gainsbourg plays her sister. The film also stars Kiefer Sutherland, John Hurt, Stellan Skarsgård and Alexander Skarsgård, as Dunst's betrothed. For the new film, von Trier has promised, "No more happy endings." As if you were worried.
"On the Road"
Directed by Walter Salles
The Jack Kerouac Beat classic finally gets a modern screen redo from the makers of the "Motorcycle Diaries," Brazilian director Walter Salles and Puerto Rican writer Jose Rivera. Starring Sam Riley ("Control") as Sal Paradise and Garrett Hedlund ("Tron: Legacy") as Dean Moriarty, the film follows the two young men journeying across North America in search of themselves. The film features an impressive cast of supporting players, including Kristen Stewart, Kirsten Dunst, Amy Adams and Viggo Mortensen as Old Bull Lee, considered to be a stand-in for William Burroughs. "There is a strange modernity to the theme," Salles told CNN. "And maybe 'On the Road' is more contemporary today than it ever was."
"The Skin That I Inhabit"
Directed by Pedro Almodóvar
Loosely based on a French novel called "Tarantula," Almodóvar's latest tells the story of a plastic surgeon (Antonio Banderas) who seeks revenge for his daughter's rape. In the novel, the character performs a sex change operation on the perpetrator. No word on whether this twist manifests itself in the film version, but it would certainly seem up Almodóvar's alley, if you remember the gender-bending characters that populate his cinema. In an interview with a Spanish newspaper, the director likened the film to the horror genre – but "without screams or scares," he said. "It's the harshest film I've ever written and Banderas' character is brutal." Sony Pictures Classics has picked the film up for U.S. distribution.
"Tinker, Tailor, Soldier, Spy"
Directed by Tomas Alfredson
From the makers of "Let the Right One In," the Swedish cult vampire film, comes a tantalizing new project, an adaptation of John le Carré's famous bestseller. Director Alfredson has brought aboard many of his Swedish creative collaborators –including ace cinematographer Hoyte van Hoytema — for this decidedly English drama about George Smiley, a retired MI6 agent trying to adjust to a life outside the secret service, who is then, of course, pulled back into the world of espionage. It's got a great cast, with Gary Oldman as Smiley, as well as Colin Firth, Tom Hardy and Ciarán Hinds. Prestige producers Working Title and Studio Canal are backing the project, which recently completed shooting in London.
"Untitled Dardenne Brothers Film"
Directed by the Luc and Jean-Pierre Dardenne
Originally known as "Délivrez moi" (or "Set Me Free"), the latest film from proficient Belgian siblings Luc and Jean-Pierre Dardenne features fellow Belge starlet Cécile de France (recently seen in Clint Eastwood's "Hereafter") and reportedly centers on a 11-year-old boy who escapes from the orphanage where his father left him, and then, pursued by orphanage staffers, eventually finds refuge with a young female stranger. Known for their bracing, heartrending class-conscious dramas ("Rosetta,"
"The Child," and most recently "Lorna's Silence"), there's no reason to doubt the Dardennes' new film will traffic in the same delicate balance of pain and pathos.
"We Need to Talk About Kevin"
Directed by Lynne Ramsay
Following her auspicious debut "Ratcatcher" and the astonishing follow-up "Morvern Callar," the Scottish-born Ramsay has quickly established herself as one of the world's foremost burgeoning auteurs. While her version of "The Lovely Bones" sadly never came to fruition, fans of the filmmakers' work are salivating over her replacement adaptation, "Kevin," based on Lionel Shriver's prize-winning book. Told from the perspective of a conflicted mother (played by Tilda Swinton), the film tells the story of the events leading up to and following her son Kevin's killing spree just days before his 16th birthday. With young "Afterschool" star Ezra Miller as Kevin and John C. Reilly as his father, the film promises to be, what Swinton has called in interviews, "a doozy."
"Wuthering Heights"
Directed by Andrea Arnold
Rising Brit auteur Arnold ("Fish Tank," "Red Road") takes her beautifully gritty aesthetic to the classics, with this reportedly "rawer" take on Emily Brontë's 1847 tale of doomed teenage lovers. The faithful adaptation recently made headlines in the U.K. when it was announced that James Howson, a young black actor with no prior film credits, was cast as Heathcliff. Eighteen-year-old actress Kaya Scodelario (known from Brit TV series "Skins") stars as the ill-fated Catherine Earnshaw. According to The Guardian, key scenes were filmed at Moor Close, "a desolate farmhouse without electricity or running water in the North Yorkshire moors." Sounds glorious!
[Additional photos: "The Grandmasters," Jet Tone Productions, 2011; "The Skin That I Inhabit," El Deseo/Sony Pictures Classics, 2011]