The Five Sexiest Whitest Kids U'Know Skits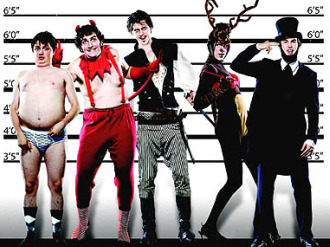 Posted by Melissa Locker on
As you may have noticed, we love the Whitest Kids U'Know. We love their Always On, Slightly Off sense of humor, their wacky hijinks, and their ability to always make us laugh. Please note that the reasons we love them do not include their sparkling clean mouths, purity rings, chastity pledges, or good upright lifestyles. Nah, we love them because they have dirty minds, vivid imaginations, have no fear of the gutter, and, most importantly, they're hilarious.
To help celebrate and honor their offbeat humor, we have compiled a list of the five sexiest Whitest Kids U'Know skits. Please to enjoy.
Want more? Tune in for four back-to-back episodes starting at 2:50 p.m. ET or download all their episodes via iTunes.
1. Sex Robot:
2. Sexy Fawn:
3. Asian Hooker:
4. We Gon' Make Love:
5. Slow Jerkin':
The Whitest Kids U'Know from 2:50 p.m. ET to 4:50 p.m. ET