"The Social Network" Tops indieWIRE's 2010 Critics Survey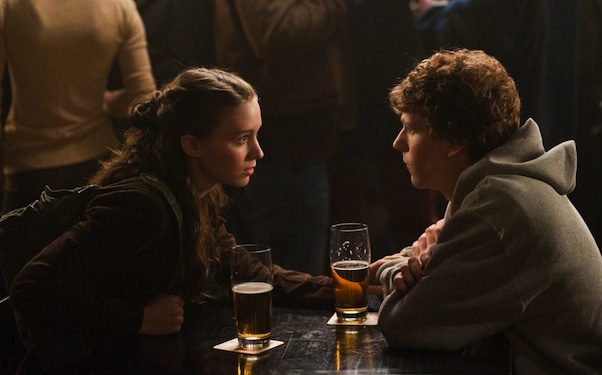 Posted by Matt Singer on
Not a huge surprise, since it's won nearly every critics' group award in the country, and this is exclusively a critics' poll, but "The Social Network" steamrolled the competition in indieWIRE's 2010 Annual Critics Survey. It wasn't even close; "The Social Network" appeared on well over half of the ballots submitted and beat its closest competitor, Olivier Assayas' mega-biopic "Carlos," by 100 points and twenty mentions. David Fincher won Best Director, and Aaron Sorkin scored Best Screenplay in an even more lopsided contest, earning more than four times as many votes as any other writer. If you're a betting man, and you don't bet on Sorkin to win the Oscar for Best Adapted Screenplay at this point, you are a very dumb betting man indeed.
It wasn't a clean sweep for "Social Network," though: "Carlos"' Edgar Ramirez topped "Network"'s Jesse Eisenberg for Best Lead Performance, narrowly edging him by a single vote. And I'm pleased to report my favorite supporting actor of the year, John Hawkes, won Best Supporting Performance for "Winter's Bone." When I wrote a piece about Hawkes' performance a few weeks ago for IFC.com, he was outside of the top fifteen contenders on most Oscar prediction websites. Now he's moved into the top ten. I hope his momentum continues to build.
Banksky's exuberant street art documentary "Exit Through the Gift Shop" earned Best Documentary and Best First Feature honors. Jean-Luc Godard's "Film Socialisme" and the Romanian film "The Autobiography of Nicolae Ceausescu" split the Best Undistributed Film award. Here's the critics survey's full top ten. For the poll's full results (and for full ballots from Alison Willmore and myself) go to indieWIRE.
indieWIRE Annual Critics Survey Top Ten Films of 2010

1. "The Social Network," directed by David Fincher
2. "Carlos," directed by Olivier Assayas
3. "Winter's Bone," directed by Debra Granik
4. "Black Swan," directed by Darren Aronofsky
5. "Everyone Else," directed by Maren Ade
6. "Dogtooth," directed by Yorgos Lanthimos
7. "The Ghost Writer," directed by Roman Polanski
8. "Mother," directed by Bong Joon-ho
9. "I Am Love," directed by Luca Guadagnino
10. "Another Year," directed by Mike Leigh and "Wild Grass," directed by Alain Resnais (tie)