Looking For Comedy in the North Korean World: "The Red Chapel," Reviewed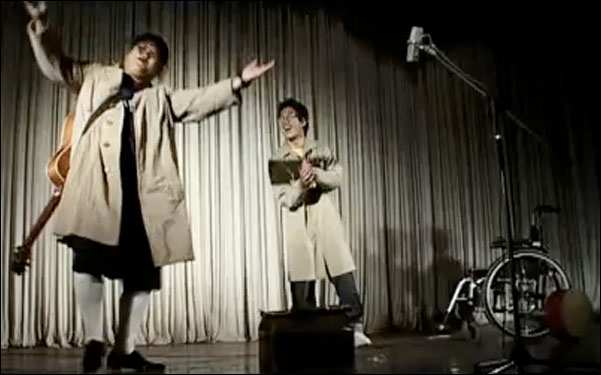 Posted by Alison Willmore on
This review originally ran as part of our coverage of the 2010 SXSW Film Festival.
A confession: I passed over "The Red Chapel" a few times on the festival circuit before I finally sat down to see it. I'd glance over the description — "small theater troupe," "Denmark," "cultural exchange visit," "North Korea" — and I'd imagine… actually, I don't know what I'd imagine, but it wasn't promising.
Well, mea culpa. This Danish documentary is incredibly uncomfortably funny, like a love child of "The Idiots" (it's the product of Lars von Trier's Zentropa Productions) and "Borat" that managed to grow a complicated political conscience. And it is, indeed, about a small theater troupe from Denmark who go to North Korea on a cultural exchange visit. Sort of.
Director Mads Brügger, who also narrates and appears on camera, wanted to make a film about the DPRK's terrible conditions — to, in his words, "expose the very core of the evilness of North Korea." Except the only way you can get permission to shoot there is to convince the government, who'll be escorting and watching you closely the entire time, that you have only its best interests in mind. And so Brügger came up with bait, inventing the Red Chapel theater group, comprised of him and two Korean young men who were adopted and raised in Denmark: Simon Jul, burly, sardonic and tattooed; and there's Jacob Nossell, who's handicapped — "spastic," as he puts — and whose speech defects mean that he's the only one who speaks his mind of camera, since the secret police, who surveyed the footage shot each night, apparently couldn't understand his nonstandard Danish. Mads sees the pair as an irresistible PR lure — two Koreans who, wanting to reconnect with their roots, choose Pyongyang over Seoul.
It works, even though the show they audition in front of stern officials is a wretched jumble of slapstick, drag, tap dance and an acoustic rendition of "Wonderwall," and soon the three are being given a propaganda-filled tour of schools filled with perfect children doing music performances and creekside picnics attended by pretty girls. The flawlessly rehearsed surfaces and fixed smiles are, as Jacob puts it, fucking creepy, but in the face of everything the three men manage some inspired stunts of deadpan comedy.
On a trip to the Joint Security Area, Simon solemnly walks around a conference table in order to have gotten a chance to set foot in South Korea, land of his birth. Mads convinces their escort, Mrs. Pak, to allow him to read a poem in front of the statue of Kim Il-Sung, to which all visiting foreigners are required to pay homage. He claims it's by a famous Danish worker's rights writer. It's not. It goes as follows: "Love is like a pineapple / Sweet and undefinable."
But the terrible grip that the Dear Leader has over the nation really repels any external application of irony, and as Mads' plan to essentially prank one of the world's most notorious totalitarian dictatorships starts to seem a little smug, Jacob starts calling him on that very fact. How can planned absurdity compete with the surreal, stupefying sight of thousands of people being used, as Mads himself puts it, as human pixels in a portrait of their repressive despot?
There are serious food shortages, thousands of people are being kept in detention camps, and the rest are trying to carve out the best situation for themselves possible, and trying just as hard to convince themselves they're really happy about it, because they haven't exactly been offered an array of other options. Jacob, who likely wouldn't have made it to adulthood if he'd been born in the DPRK, ends up offering the most empathetic viewpoint in the film, a richer and more satisfying one than, it seemed, was "The Red Chapel"'s original intent. Regimes can be evil — people are far more complicated.
"The Red Chapel" opens in New York on December 29th.